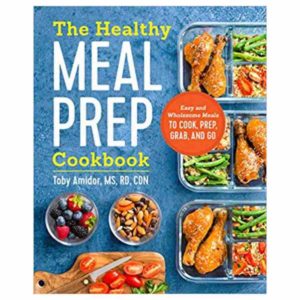 I caught up with Toby Amidor, Registered Dietitian, author, and mom, in this Q&A to learn more about her new meal prep cookbook.
Toby's new book, The Healthy Meal Prep Cookbook: Easy and Wholesome Meals to Cook, Prep, Grab, and Go (Rockridge Press, 2017), is filled with meal prep tips and tricks. Here are some helpful insights for moms to make meal prep easier! This post contains affiliate links. As an Amazon Associate, we earn from qualifying purchases. 
Q: What are the biggest obstacles to cooking? How does your book help overcome this? 
One of the biggest obstacles to healthy cooking is having enough time. Everyone is trying to balance work, home-life and the kids, and sometimes they take unhealthy shortcuts to get meals on the table. The Healthy Meal Prep Cookbook has recipes and tips to help you get meals ready over the weekend (or twice a week instead of every night), so you can heat and eat meals. It can help you save at least 45 minutes during a busy work night, so your kids can eat and do homework fueled and focused instead of being super hungry waiting for dinner.
Q: When it comes to meal prep, what are strategies to make cooking easy and tasty?
When it comes to meal prep, there are several things to remember:
Choose your day or days to meal prep: You can choose to meal prep on a Sunday, or you can meal prep two days a week if that is easier for you. During the weekend, kids tend to have a lot of activities, and parents are driving them around– that is why I choose to meal prep Sundays and Wednesdays for a few hours each day.
Choose recipes the whole family will enjoy: Choose these recipes in advance like lasagna, chili, stew, or other foods that you can split into two portions– one for the upcoming weeknight and the rest you can freeze for a later week where you are too busy to meal prep. Once you find recipes the whole family enjoys, store them on your computer or in a folder so you can easily reuse them.
Don't forget snacks: Kids and parents are busy, and if they go over 5 hours without eating, it's time for a snack. When you go food shopping for your meals, also make sure to account for snacks. It's easy to whip up and pre-pack trail mix, flavored popcorn, or energy balls for the week.
Pre-pack food: Once you have all your food prepared, don't forget to portion it either for the family or per individual. This way, you know how much food you have, and you won't be left short at the end of the week.
Q: Is there a recipe you want to share with our readers that kids will enjoy?
My kids love stir-fries, and they are simple and quick to cook. Here is one of my family's favorite recipes: Beef Stir-Fry with Asian Peanut Sauce!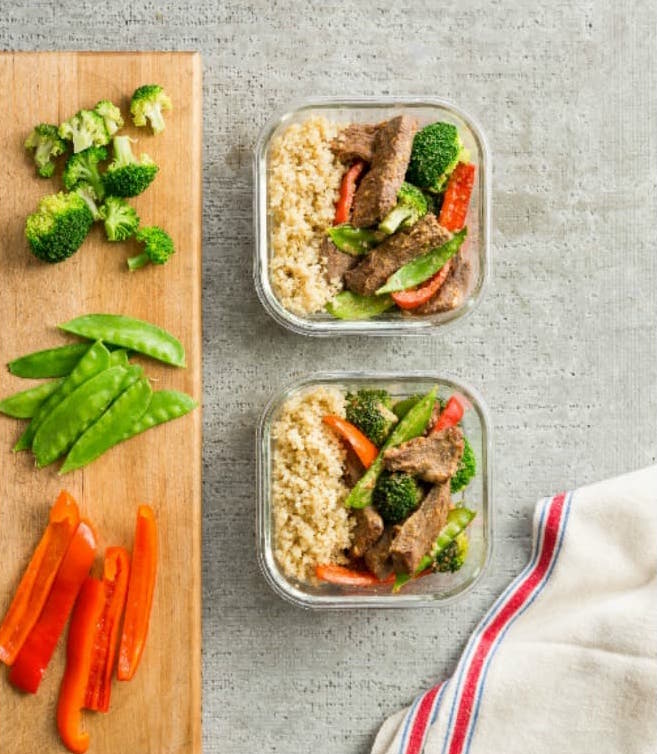 Copyright Toby Amidor, The Healthy Meal Prep Cookbook: Easy and Wholesome Meals to Cook, Prep, Grab, and Go, Rockridge Press, 2017. Photo courtesy of Nat & Cody Gantz
Q: What type of diet do you follow with your family?
My family doesn't follow any special diet, but we do eat healthily. I serve my family foods from various food groups, including fruits, vegetables, grains, milk and dairy, protein, and healthy fats. I try to introduce new foods and dishes regularly, so my kids get used to different flavors. Even if they don't want to try it, they can smell and see the food. If I serve it often enough, to my surprise, they actually start tasting and even requesting the dish!
Q: What's your favorite short cut for meal prep?
One of my favorite short cuts for meal prep is my slow cooker. I know everyone loves their Instant Pot and pressure cooker, but I like the slow cooker because it is slow! I put the food in the slow cooker at the beginning of the day and don't have to worry about it for several hours. I can run errands, go to work, or do whatever I need until it is ready to go. In the slow cooker, I like to make chili, stew, soups, and meat dishes, which my kids love! 
Q: What's a favorite cooking tool your kids love?
My kids love to use my vegetable chopper (shown below). I am not so comfortable giving my kids a chef's knife to chop vegetables into small pieces, but the chopper is a manual piece of equipment they can easily use without cutting their fingers. They like making my Israeli-Style Salad using the vegetable chopper.
Q: Any other tips or tools you want to offer.
I have a second meal prep cookbook called Smart Meal Prep for Beginners: Recipes and Weekly Plans for Healthy, Ready-to-Go Meals (2018). If you are new to meal prepping and need specific steps on how to meal prep, I would recommend starting there. This cookbook starts your meal prepping with only 3 recipes and allows you to work your way up through 6 meal plans.