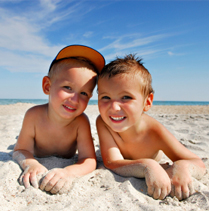 Learn our simple guide to healthy eating at the beach that the kids will love all summer long!
Going to the beach is an amazing summer pastime and a tradition your kids are sure to love! Unfortunately, if you're not careful, the beach can end up being an unhealthy outing. Many beaches have food stands that serve the usual suspects: hot dogs, hamburgers, ice cream, chips, soda, and the list goes on. In addition to being highly processed, most of the foods served at these stands are high in calories, sugar, and fat. After eating at one of these stands, you might find yourself feeling fatigued from the effects of all the refined carbohydrates and excess fats. Do your kids and yourself a favor by packing healthy beach snacks, lunches, and beverages to keep everyone satisfied and energized for a fun-filled day.
Tips for Beach-Friendly Nutritious Snacks
Healthy Snack Suggestions
Beach Picnic Lunches
Sandwiches – Opt for whole grain bread for added fiber and nutrients.

Fruit salad parfaits
Fruit salad is always a picnic favorite. Berries, peaches, and raspberries are a great addition to a summer fruit salad because they are in-season. Try dividing up the fruit salad into plastic containers; add yogurt and granola or nuts for a sweet treat. See our Super Crew activity with raspberry dressing.
Pasta salad
Pasta salad is a great picnic choice because it is served cold. Use whole-wheat pasta and add diced tomatoes, onion, red and green bell peppers, and grated carrots. Drizzle olive oil and balsamic vinegar over it. Grilled chicken would be a great addition to the pasta salad if craving a more filling meal.
Snack it Up
Pair a couple snacks listed above for a non-traditional lunch. Kids love options and making decisions so try a cheese, cracker, and fruit platter that will give them different options to pick from. The same can be done with a veggie platter. Cut up celery, carrots, broccoli, and bell peppers and offer a choice of dips such as hummus, bean dip, and ranch dip.
Cool Healthy Beverages
When you're at the beach, you're more likely to get dehydrated because of the heat so make sure to pack plenty of beverages to keep your family hydrated. Remember, if you feel thirsty, you are already a percent dehydrated. So fuel your body with fluids throughout the day to prevent fatigue and dehydration. See below for some beach beverage ideas.