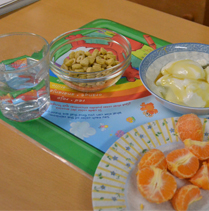 The best snacks are packed with flavor, color, and nutrition! Here are a couple
 of things to focus on when choosing a snack for your kid!
Combine food groups.
To help satisfy your child's hunger for a longer amount of time, combine at least two of the five food groups listed below:
Grains (e.g. bread, pasta, rice, crackers, pretzels, granola, cereal)
Vegetables
Fruit
Protein (e.g. cottage cheese, lean cuts of meat, fish and poultry)
Dairy (e.g. low-fat milk, yogurt and reduced-fat cheese).
Think variety, color, flavor, and texture.
Children eat with their eyes, so make sure to mix and match different colors. Try different textures to create a more interesting snack or meal.
Creamy cheese with whole grain crisp crackers
Smooth yogurt with crunchy cereal and colorful fruit
crisp orange baby carrots and green, red or yellow sweet peppers
with low-fat dip or hummus
To get some great snack ideas with fruits and veggies see Fun with Fruits and Vegetables.