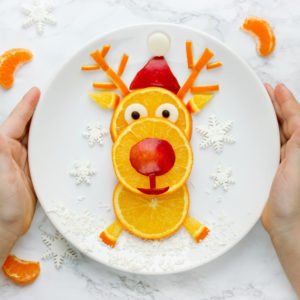 Looking for a healthy and enjoyable holiday tradition to start with your kids? Start the tradition of making Christmas holiday food art for the kids!
After the holiday rush, and most likely a lot of cookies, get the fruit and veggies out and start crafting! Loaded with vitamins, minerals, fiber, and disease-fighting 'fight-o-chemicals', fruit and vegetable holiday food art is the perfect tradition to start with your kids this holiday season. With food art, the possibilities are endless, but here are a few ideas to get you started. For even more holiday food art ideas, check out this article. Use these ideas for inspiration, but feel free to let your kids get creative with their own designs and tasty masterpieces, too! You'll have reindeer and Christmas trees three ways!
Apple and Orange Reindeer Holiday Food Art
Ingredients:
Optional: Shredded coconut
Directions:
To make this adorable reindeer, slice three thin rounds from the center of the orange and stack on the plate as pictured. With another slice of orange, cut four small pieces for the legs and ears, and slice up some of the orange peel to make the antlers.
Then, use very thin pieces of a red apple (use mostly skin) to make the nose, mouth, and hat.
For the eyes and top of the hat, cut three small circles out of the jicama.
For the pupils, cut two small circles from a black olive.
Lastly, if desired, dust with shredded coconut snow!
Cucumber Cranberry Tree Holiday Food Art
Ingredients:
Directions:
Slice a round, one-inch piece of cucumber from near the end for the base and place this on your plate.
Next, cutting lengthwise, slice a very thin piece from near the center of the cucumber. You can use a vegetable peeler and slice lengthwise or use a mandolin. Weave the skewer through the cucumber as pictured, then place the end in the base.
Decorate your tree with pomegranate seeds and place a cranberry, steamed beet, or strawberry through the top of the skewer.
Pea and Carrot Tree
Ingredients:
Directions:
Simply arrange peas into a tree shape, as pictured.
Then, cut a star and tree trunk out of a carrot, and place it on tree accordingly.
Avocado Salmon Tree Holiday Food Art

Ingredients:
Optional: Tiny star food cutter, hard-boiled egg
Directions:
Slice avocado into thin wedges and arrange as pictured.
Cut salmon into thin pieces about 2-3 inches long, then roll up and arrange around the avocado branches. Cut one piece of salmon into a star and place it on the top.
Next, decorate your tree with cranberries and dots of balsamic vinegar.
If desired, use a tiny star-shaped food cutter (these can be purchased online) to cut the white part of a boiled egg, then decorate.
Tips for Making Food Art
Holiday Gift Idea: Kids Cookbook and Activity Book
If you want more fun and easy food ideas, the Super Crew's activity book and cookbook is a great holiday gift. With over 50 activities and over 100 recipes, your kids will have plenty of inspiration in the kitchen and will have fun being a sous chef!