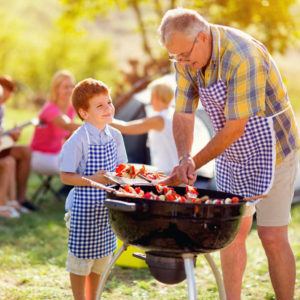 Barbecues can be packed with family fun, tasty, safe food with a little extra planning. Check out our healthy side dish ideas, and some important food safety tips to keep in mind!
Barbecue season has arrived. Everything tastes better on the grill and shared outdoors with family and friends. This year try putting a healthier edge to some of your family dishes and explore new foods on the grill.
Just yesterday, I could smell barbecue wafting from my neighbor's backyard. BBQs can be a recipe for outdoor fun, but we're often served the same old unhealthy dishes, and a lot of BBQ food is left out too long, creating a food safety scare. Not to worry! Get ready for a healthy, happy summer with these simple tips.
Healthy Side Dishes
With some quick and easy side dish trades, you can have a nourishing and delicious BBQ!
Instead of traditional potato salad, try roasting some fingerling potatoes with garlic and rosemary or try grilled

polenta with rosemary

. These

potato towers

cooked ahead and reheated on the grill are also delicious.
Instead of potato chips, try baked kale chips or frozen pistachios. Did you know that 9 potato chips have the same amount of calories as 30 pistachios?
Instead of ranch dressing as a dip, bring hummus! Or try mixing hummus in vinaigrette to make a creamier dressing for salads.
Take advantage of the beautiful summer fruits with fruit skewers! Arrange a strawberry, mandarin orange slice, pineapple cube,

kiwi

slice, one grape, and

blueberry

in that order on kebab sticks for a rainbow of colors and flavors. Mix fresh with some frozen that's slightly defrosted for tight food budgets.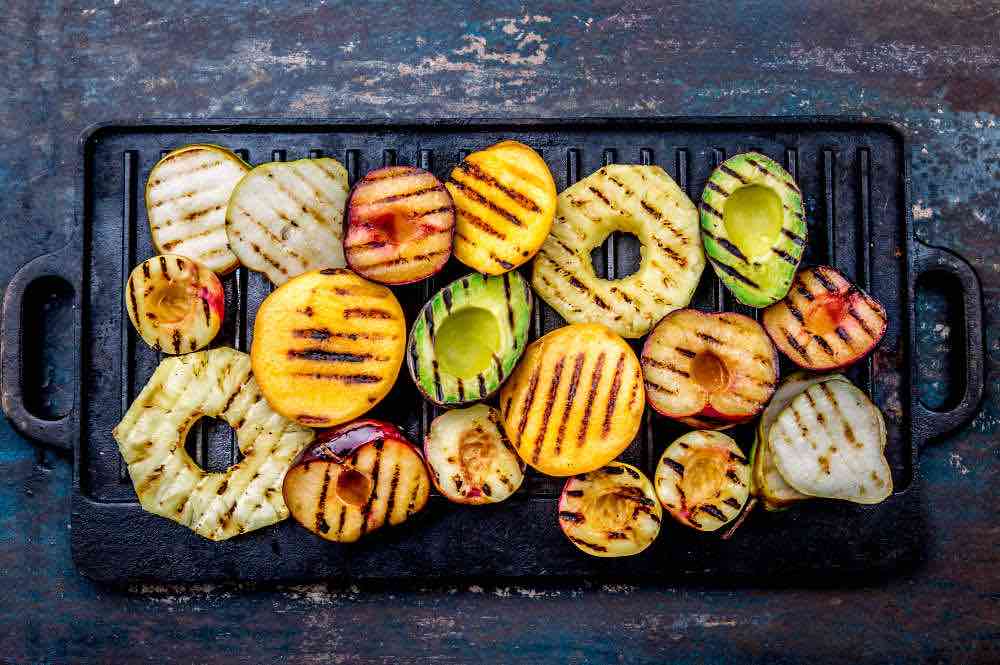 Don't Forget, Food Safety First!
A healthy BBQ doesn't end with the food you serve. Help protect your family from food poisoning by following these quick BBQ food safety tips!
Don't leave food out in the heat and sun for more than an hour. The heat from the sun can speed up the growth of harmful bacteria.
Separate raw meat from

fruits and veggies

by using different cutting boards and knives – try using a red cutting board for meat and a green cutting board for fruits and veggies!
Keep your hot foods hot and your cold foods cold. Put your hot dishes in covered aluminum roasting pans over hot coals on the BBQ, or keep them in insulated hot/cold bags. For cold dishes, try serving them in a double bowl and fill the bottom bowl with ice.
When grilling, don't use the same dish for the cooked meats that you brought the raw meat over on. Rinsing it in between isn't enough! Fully wash or use a new plate to be safe. Try grilling fruit too, like these

sweet grilled peaches

.
Wash your hands frequently, especially before eating, for at least 15 seconds, or as long as it takes to sing "Happy Birthday" two times. Make sure your kids wash their hands and

know food safety tips

too!
Keep your cold foods cold by replenishing your ice and ice packs.
Bring plenty of hand sanitizer and soap and water to wash your hands with. Make sure your kids wash their hands before eating!
Pack a first aid kit for the inevitable scrape or burn. Include aloe vera and antiseptic ointment.
Barbecues at parks:
The park is a perfect setting for BBQ, but don't stand by on the most convenient (often unhealthy) options to bring. Trade out the chips and white buns, instead give these options a try:
Ditch the

hot dogs

and burgers! Instead, try veggie burgers and chicken apple sausage.
Make sure your buns are

whole grain

. Just look for the whole grain logo and 100% whole wheat. The extra fiber will keep kids fuller longer and able to play without a sugar crash!
Bring

popcorn

instead of potato chips or homemade trail mix instead of candy bars. It's hard to avoid bringing some convenience when you're headed to the park, just make sure what you bring is minimally processed.
Don't forget the fruit! Fruits like bananas, peaches, oranges, and apples are great to bring into nature because they don't require refrigeration and can be eaten on the go.
Use these tips to amp up your BBQs and make this summer extra special.