Boost Up With Blueberries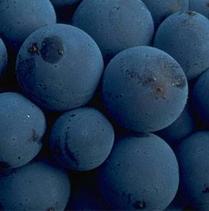 Want to keep your mind sharp, lower your cholesterol, keep your bones strong and prevent hardening of your arteries? Then blueberries are for you! They're sweet taste may make you pop them like candy, only they won't enlarge your waistline. Blueberries are a super food – packed with power from their rich blue color loaded with antioxidants. This berry contains a number of compounds that researchers believe have many medicinal properties that help prevent various diseases.
Research is discovering how phytochemicals from blueberries protect healthy cells from damage and slow the growth rate of pre-cancerous cells keeping cancer at bay. Research has shown that, as with cranberries, blueberries can help ward off urinary tract infections by preventing infection-causing bacteria from sticking to the walls of the urinary tract. Blueberries can also help make blood platelets less sticky, lowering the risk of blood clots and reducing the risk of cardiovascular disease. Recent research shows that these berries may also help lower blood pressure and make arteries more flexible.  Blueberries may also help protect against UV damage. Want to learn how to make this super food part of your healthy lifestyle? Then check out the tips below.
What Types Of Blueberries Should I Eat?
Fresh, frozen, dried and as juiced (include the pulp) – all types of blueberries are packed with power.
Wild blueberries contain 40% more antioxidant potential than cultivated varieties.
If choosing blueberry juice, try to avoid the brands with added sugars or mixed with other juices.
Frozen blueberries taste great, cost less and can be enjoyed all year round.
The darker the color the more anthocyanins and the higher the antioxidant potential. Anthocyanins are the anti-oxidant coloring  compounds that make blueberries blue.
How Much Do I Need To Eat?
A 1/2 cup serving 3 to 4 times per week to help maximize your body defenses.
To keep your antioxidant levels high, try eating smaller amounts of blueberries throughout the day.
What are Some Tasty Blueberry Treats?
Homemade baked goods, jams, pies, whole grain pancakes, smoothies and as a topping on low fat frozen yogurt.
Briefly microwave frozen berries with other frozen fruit. Add to plain yogurt, topped with walnuts and cinnamon to start your day the antioxidant way.
Instead of a mango or peach salsa to accompany fish or chicken, try experimenting with a blueberry base salsa.
Chop dried blueberries in a blender along with almonds and raspberry jam to make a fruit chutney – tastes great on top of a sweet potato or with ricotta on toasted whole grain toast.
Blueberries make a great snack for toddlers or preschool aged children, for infants try cutting them in half, or use the smaller wild variety also available frozen.
Pack them for your child's snack or in their lunch box in a small re-usable plastic container to keep them from getting squished.
Blend frozen blueberries with a frozen banana, a tablespoon of orange juice and a dash of cinnamon to create a delicious frozen sorbet
Make into smoothies, then freeze extra in popsicle molds. Mix frozen berries with grape juice for super sweet popsicles
Add dried or fresh blueberries to salads, like this blood orange, fennel salad.
How To Choose Them
When buying fresh berries choose those that are firm, uniform in size and indigo blue with a silver, powdery look.
Rinse thoroughly just before serving. While best eaten right away, they will keep refrigerated for up to 5 days.
Learn how it's so easy to grow blueberries.
---