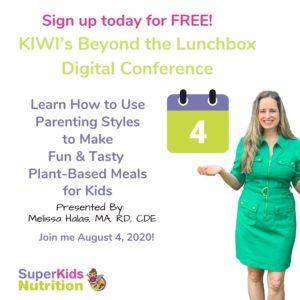 Get free expert nutrition advice for moms on August 4th during KIWI's Beyond the Lunchbox Digital Conference!
I am so excited to be a part of KIWI's Beyond the Lunchbox Digital Conference this year! Make sure you register so you can hear me speak about Using Parenting Styles to Make Fun and Tasty Plant-Based Meals for Kids, August 4.
Snacks and meals can be enjoyed while supporting your kids' unique needs and the environment. During the conference you'll also learn additional strategies to make healthy eating fun for kids!
When You Can Tune In
Once registered, starting at 8 am on August 4th, you can tune in and listen to me speak at any time that day! You'll learn ways to boost tasty plant-based meals for kids' health and sustainability. I will also cover the difference between the four parenting styles and how they can impact mealtime dilemmas.
More About the Free Digital Conference for Moms on How to Feed Your Kids
The conference is free to attend and runs from August 3–9. Register now to automatically be entered to win a $100 Amazon gift card and secure your digital swag bag, filled with coupons, printables, recipes, and more, worth over $50.
Register for the Conference
Register today and tune in to hear me speak about ways that can help you support healthy eating strategies for your family!
Enter to Win my New Super Crew Book August 4th
Register for the conference and on August 4th you can enter to win my new book, Healthy Eating for Families, the Ultimate Nutrition Guide for Kids, Parents, and Educators starring the Super Crew.