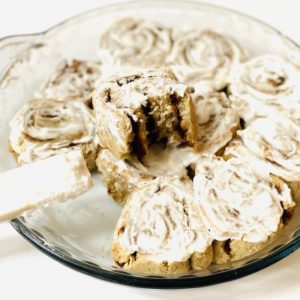 These vegan and gluten-free cinnamon rolls are a perfect sweet treat for kids with allergies. You have the option to use dairy-free cinnamon roll icing, or one with Greek yogurt.
For those who have kiddos with dietary restrictions, finding delicious yet youngster-approved baked goods can be a challenge. Stop spending countless minutes checking the ingredients on store-bought desserts, only to be disappointed by the lack of choices for your little one. Instead, go homemade!
Allergen Friendly Vegan and Gluten-Free Cinnamon Rolls
Whether your child is non-Celiac gluten sensitive, has a gluten intolerance, is lactose intolerant, or has celiac disease, we have you covered. These easy to adjust, vegan and gluten-free cinnamon rolls (allergen friendly too!) are suitable for all dietary concerns. Feel confident about your child's food options, and say goodbye to unwanted food stress. Remember, stressed spelled backward is D-E-S-S-E-R-T-S.
How to Enjoy Cinnamon Rolls with the Family
This delicious and more nutritious version of a frosted cinnamon roll will be an instant household favorite. Enjoy these sticky yet satiating rolls on a lazy Sunday morning with the entire family. Or, for the busy bees, use it as a grab-and-go breakfast to enjoy in those few precious moments before rushing out of the house. When in doubt, these rolls can always make for a sweet way to end a delicious dinner. In other words, there is never a bad time to enjoy a frosted cinnamon roll.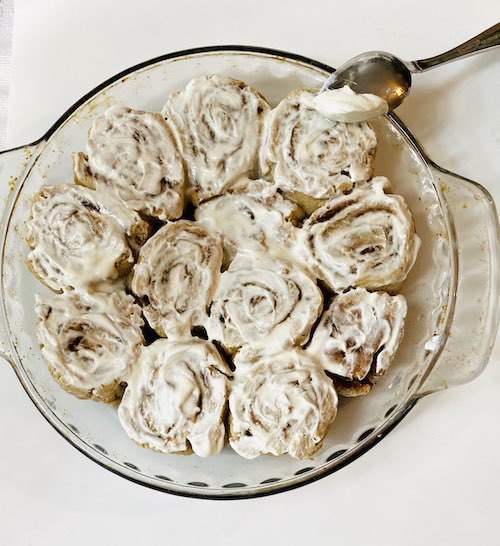 Nutrition of These Healthy Cinnamon Rolls
Besides being allergen-friendly, these cinnamon rolls also contain an abundance of healthful nutrition. By substituting the butter and whole milk with a plant-based alternative, these recipes have significantly less total fat than traditional rolls. Not to mention, plant-based options are more sustainable and environmentally friendly in comparison to traditional dairy products. Finally, these cinnamon rolls skip the processed, bleached sugars and instead get sweetened with a combination of coconut sugar and maple syrup. It's time to put the wholesomeness back in whole food nutrition.
It goes without saying that these cinnamon rolls are a party for the entire family's tastebuds. The aroma of baked rolls fresh out of the oven is both nostalgic and irresistible. Crisp on the outside, warm and chewy on the inside, these rolls are a must-have. It's a drool-worthy treat that will not stay on the counter for long. Keep the good times rolling with these allergen-friendly frosted cinnamon rolls!
Vegan and Gluten-Free Cinnamon Rolls
These vegan and gluten-free cinnamon rolls are a perfect sweet treat for kids with allergies. There are 2 icing options: one with dairy-free cinnamon roll icing, or icing with Greek yogurt.
Ingredients
Dough:
1

packet active dry yeast

2 ½

cups

all-purpose gluten-free flour

1

cup

unsweetened almond milk

3

Tbsp

vegan butter

1

Tbsp

coconut sugar

1

tsp

vanilla
Filling:
2/3

cup

coconut sugar

2

Tbsp

ground cinnamon

¼

cup

vegan butter
Vegan Frosting (dairy free):
½

cup

plain vegan cream cheese

1

tbsp

unsweetened almond milk

3

tbsp

maple syrup

2

tsp

vanilla extract
Classic Frosting (option with dairy):
3/4

cup

plain Greek yogurt

3

Tbsp

maple syrup

2

tsp

vanilla extract
Instructions
In a large bowl, whisk warmed almond milk, coconut sugar, melted vegan butter, and vanilla. Sprinkle yeast over top and let stand until frothy, approximately 10 minutes.

Add gluten-free flour and mix until fully incorporated into dough. If needed, add extra tablespoon of milk or flour to reach desired consistency.

On counter, cover bowl and allow dough to rise, approximately 1 hour. Note: gluten-free mixtures will not rise as much as traditional wheat flour.

In a small bowl, mix ground cinnamon and coconut sugar.

Flour cutting board or counter. Roll out dough into a large rectangle, about ½ inch thick.

With a knife or pizza cutter, trim edges of dough. With a basting brush, evenly spread softened vegan butter on dough.

Evenly sprinkle the cinnamon sugar on dough.

From the long side, carefully roll the dough into a log. Slice log into 10-12 round pinwheels, approximately 1" thick.

On a baking dish, place rolls and cover. Let rise on counter, approximately 20-30 minutes.

Preheat the oven to 350°F. Uncover and bake for about 30 minutes, or until the cinnamon rolls are golden brown.

In a medium bowl, add yogurt, maple syrup, and vanilla. Whisk until smooth.

Remove rolls from oven and allow to cool, approximately 10-15 minutes. Generously frost the rolls.
Notes
Nutrition Facts per 1 gluten-free roll with vanilla yogurt frosting (dairy):  Calories: 226kcal; Carbohydrates: 39g; Protein: 3g; Fat: 7g; Saturated Fat: 6g; Fiber: 1g; Sodium: 77mg; Potassium: 38mg; Magnesium: 4mg
Nutrition
Serving:
1
GF roll (vegan)
|
Calories:
231
kcal
|
Carbohydrates:
36
g
|
Protein:
2
g
|
Fat:
9
g
|
Saturated Fat:
7
g
|
Sodium:
111
mg
|
Potassium:
39
mg
|
Fiber:
1
g