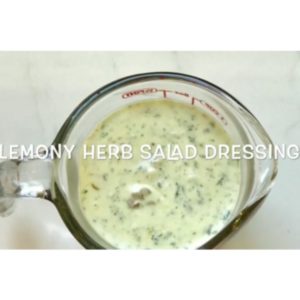 Try this simple and flavor-packed dressing that is kid-approved!
All too often store-bought dressings have too many ingredients that we can't pronounce or are packed with added sugars and saturated fat. If your kids aren't the biggest fans of a simple olive oil and vinegar dressing, this is a flavorful and nutritious dressing alternative that you can always fall back on.  Watch our Tasty Tuesday Kid Video on Instagram to see how it's made!
Ingredients:
1 cup non-fat or 2-percent Greek yogurt
2 tablespoons lemon juice
1/3 cup olive oil
1 tablespoon white vinegar
4 teaspoons sugar
1 teaspoon garlic, minced
1 teaspoon pepper, 1 teaspoon thyme, chopped
1 teaspoon ground coriander
1 teaspoon fresh sage, chopped, or parsley
Directions:
Juice lemon.
Wash and mince herbs, by hand or in a food processor.
Mix all remaining ingredients in food processor or blender. Kids love pressing the button and watching everything magically blend together!
Serve over salad, chopped veggies, or use as a mixture for veggie slaws.
Try out these 5 easy and tasty salad dressings next!