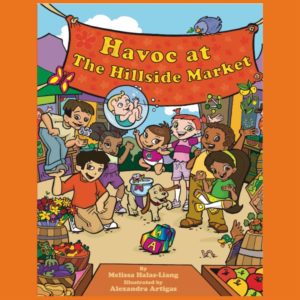 If you're in search of an adventure book with the Super Crew to learn about healthy foods you're in the right place! 

 
Book by Melissa Halas
This is a super-fun, super-colorful adventure kids will love! Readers tag along with the Super Crew to help find Baby Abigail and Cinnamon in this action-packed story. Set at a farmer's market, kids learn about healthy, locally-grown foods and good nutrition while following the Super Crew adventure. Each Super Crew member has his own special powers–derived from the nutritious foods he or she likes best. This innovative approach teaches kids about foods and nutrients by using superheroes–something all kids can relate to. This, combined with the eye-popping illustrations, makes for a fun, fast-paced book kids will want to read over and over again.
Another great feature of this book is the learning activities included at the end. Loads of great ways to continue teaching the nutrition themes in the book will keep kids engaged. This, combined with kid-friendly recipes, makes for a fun and practical way to weave nutrition concepts into everyday life–something all kids can benefit from.
After reading this book:
Take your kids to the Farmer's Market and let them each pick out a new food to try.
Teach your kids about the 'special powers' their favorite foods can give them (for example, 'bionic eyesight' from eating carrots).
Encourage them to develop a superhero character for themselves based on their favorite healthy foods.
Have fun together with the on-line activities that accompanying the books.
Teacher's Tip:
Incorporate the tips and cooking activity at the back of the book into a health-themed lesson plan.  Ask your student's to name different color fruits, vegetables and healthy foods that their favorite Super Crew® character enjoy.
For more great Super Crew games and activities, check out the Super Crew website!
Havoc at the Hillside Market, Melissa Halas. SuperKids Nutrition,
California: 2008.