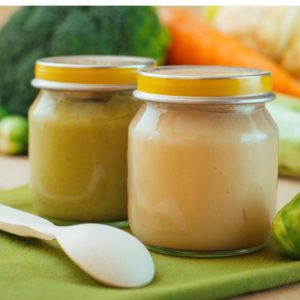 This delicious baby food pasta only takes minutes to prepare and is a great way to get in eye-healthy antioxidants, B-vitamins and tons of great fiber.
Baby food doesn't have to be boring! You have many ingredients in your kitchen that when blended make the perfect nutritious mix. This baby food pasta is an easy go-to that you can whip up when you have some leftover pasta from the night before, and a few different veggies to toss into the mix. For this recipe, you will need a baby food steamer, blender, and warmer appliance.
Ingredients:
1 cup carrots (cut up and steamed)
1/2 cup peas (frozen organic)
1/2 cup curly organic kale (roughly chopped)
1/2 cup of cooked whole-grain pasta (from dinner last night)
add in a small amount of diluted peanut butter
Directions:
Add Level 3 amount of water to the Babycook. Place all ingredients into the steam basket. Steam.
Remove the steam basket.  Leaving the water that is in the Babycook there, place everything from the steam basket into the main puree container. Puree until desired texture is achieved.  Add water as needed.  If too thin, add baby rice/oatmeal cereal.
Divide up, store and enjoy!  It will last in the refrigerator for 3 days and in the freezer for 3 months.