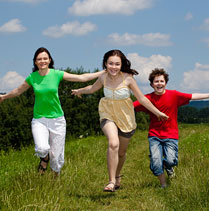 We caught up with nutrition expert, Norma Stewart MEd, RD and author of Breakfast with Martians to get her insights on eating healthy in a busy world.
What is your philosophy of raising a healthy family?
Eating healthy food and staying physically active really do help everyone feel their best. Sweet treats are fine in moderation, but if you serve mostly healthy foods, those are what kids will learn to love. Encourage your children to try many different types of physical activity so they will find some that they genuinely enjoy.  The habits that they develop in childhood are most likely what they will carry into their later years.  My family enjoys a variety of activities. My two boys were into different activities such as tennis, snowboarding, and mountain biking.  My husband enjoys golf while I enjoy a daily run.
As a parent and a health professional, what advice can you give parents today to help them raise healthy children?
Do your best to be a good role model, even though that isn't always easy. If you struggle with your own eating habits as many Americans do, knowing that your children are watching might just be an added incentive to help you make better food choices. Kids will want to eat what you are eating, so let them see you enjoy fruit, vegetables, whole grains, lean protein sources and milk as well as occasional cookies, cake, chips (etc.). Have meals together as a family. Serve a variety of healthy dishes and let everyone enjoy what they like without focusing on what someone does or does not eat.
Build physical activity into your routine as well.  Simple activities such as taking walks or riding bikes together on a regular basis will go a long way toward developing the exercise habit. Here are some great tips for making exercise a part of your everyday life.
What do you feel are the biggest challenges that people face today?
Fitting physical activity into a hectic schedule can be challenging.  However, we can always find time for things that we consider important, and exercise is essential for good health.  Many people feel that they are too tired to exercise. However, if they work with a health professional, find activities they enjoy, stick with a sensible exercise program, and become fit, they will be amazed at the energy they develop.
Focusing on healthy food can be a challenge in a society marked by unhealthy temptations. Many foods that are low in nutrition and high in fat and sugar are heavily advertised and marketed to people of all ages – especially kids.  While no particular food needs to be totally off limits (even candy, chips and soda pop are okay once in a while) we need to make fruits, vegetables, and other nutrient packed foods just as enticing as those that are cleverly marketed.
Spending time with children selecting, preparing, and enjoying healthful options is one way to make nutritious foods more appealing.  Getting kids involved doesn't have to be complicated. For example, explore the produce section of the supermarket together.  Let your child pick out several types of fresh fruit and make a simple fruit salad together.  If you are really pressed for time, purchase fresh melon and pineapple that is already cut into cubes.  Mix these together, and toss in colorful frozen berries. Build some happy memories together involving great tasting, healthy food. Here are some easy recipes you can make with your kids this week!
What is your secret indulgence?
I know that I am not alone when I say that I love chocolate.  I like all kinds, but peanut butter cups, dark chocolate and chocolate covered raisins are among my favorites.  Isn't it great to know that you can enjoy reasonable amounts of any food and still maintain good health? I should also mention that this indulgence is not such a secret.  People know that they can buy chocolate for me on my birthday – or any day for that matter.
What is your best kept secret to a healthy family?
I feel that by being a positive role model to my children as well as my husband, I am able to promote overall health. I also believe that it is important to find a healthy balance. Enjoying high sugar foods is acceptable, just in moderation.
What is your family's favorite meal?
My family does not have just one favorite meal.  I feel very lucky that my kids were not picky eaters growing up.  They all enjoyed a variety of vegetables including broccoli and cauliflower. However, I do make wonderful pork tenderloin with cherries that everyone enjoys.
Norma Stewart is a Registered Dietitian and holds a Masters Degree in elementary education.  She is the author of Breakfast with Martians: discover wellness that is out of this world at home, school,and beyond.
Purchase or learn more about her book.
Be sure to check back each month for upcoming interviews with other nutrition experts including nutrition scientists who work to uncover the fundamental substances in foods which are essential to a healthy life.
You can view all of our nutrition and health expert interviews for every day tips to healthy living.