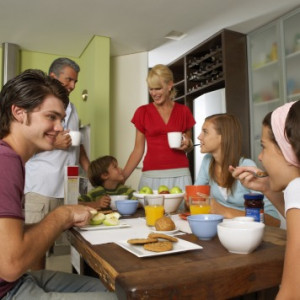 Teenagers benefit from family meals even if it's the exception rather than the rule! Read on to learn why making family mealtime matters.
When was the last time your family enjoyed a meal together with your teenager? Family mealtime has changed drastically over the years, from sitting together at the dinner table enjoying a prepared meal, to family members eating at different times, on a stool at the counter, or even while multitasking. In today's over-scheduled world, it is common for parents to reach for fast food or other highly processed options just to get something on the table for dinner. Although it may seem difficult to get the whole family together for dinner, the payoffs are huge. Research has shown in both children and teens that enjoy family meals at least three times per week have better diet quality and are less likely to be overweight or obese (1). Teens who eat dinner with their families are less likely to be involved with drugs, tend to have better grades, and are at a lower risk of developing depression (2). Can you believe all of these benefits come from the simple act of sharing a meal with the ones you love?
If family meal time has fallen off the schedule in your household, don't fret. With just a few tips and tricks you can revamp your mealtimes and make family dinner a priority again.
Here are 3 ideas for making family mealtimes special again:
Make it a priority.
Sitting together for meals requires time, but the time invested is not wasted! Sitting together at the table during mealtimes allows families to talk to each other about their day and address any concerns within the household. Sharing a meal with the company of others is a comforting experience, and can give your children a sense of stability and routine. If you cannot all sit together for dinner, try to have breakfast together, or find time on the weekends to share at least one meal. You may be surprised at how much more connected with your family you will feel!
Plan easy meals in advance.
Preparing meals at home allows families to enjoy delicious, nutritious, affordable food. Let's face it, eating out is expensive and isn't typically nutritious either. Planning is the key to making home cooking easier. Choose five or six quick recipes you can make in under 30 minutes, and shop for all the ingredients on Sunday. By planning ahead and having all the ingredients on hand, it actually takes less time to cook a quick meal than it does to go pick up food. Check out these quick and easy dinner ideas! Get your teens involved in the cooking process and teach them a lifelong skill. Check out these easy stove top meals or easy microwaveable meals your teen could try preparing.
Don't stress!
Remember, the goal is to simply enjoy family time together. Meals don't have to be extravagant affairs every night. Give yourself permission to relax and go with the flow. Grocery store out of your favorite lettuce blend? Try a new one instead! Did you burn the garlic bread? Accidentally grab the wrong shape of pasta? Make the recipe anyway! Don't let the little things discourage you from getting a meal on the table. You can do this!
Get the teens involved in cooking by having them take charge of making dinner at least once a month for the whole family.
Ready to take action?
Set a goal for yourself that is realistic and attainable, such as, "My family will eat dinner together every Friday night, and breakfast together every Sunday morning." Start small and work your way up until you are satisfied with the number of family mealtimes in your schedule each week. Above all, enjoy your family and cherish them each and every day!
Check out these helpful insights on teen nutrition, How Teens Lose Weight and Keep it Off, 3 Ways to Encourage Teens to Eat Breakfast and Teens Weight and Self Esteem