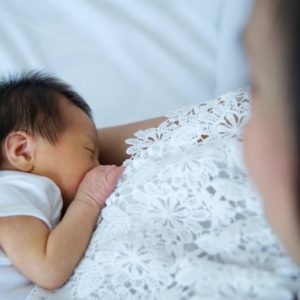 Before panic strikes about your sudden urge to devour the entire fridge's contents, know that breastfeeding does make you hungry and there are healthy solutions.
Do you find yourself reaching for a second breakfast or a late-night snack? Does breastfeeding make you hungry? The simple answer – YES.
Welcome to breastfeeding, where everything seems full—except your stomach. During these moments, it's critical to fuel with healthy and satisfying food items. While the body may crave empty calories or refined carbohydrates, these won't satisfy your hunger long-term. Avoid being h-angry by anticipating these moments and being prepared with these helpful tips.
Why Does Breastfeeding Increase Your Appetite?
It isn't uncommon to wake up in the middle of the night to feed your baby, craving a chicken sandwich, or feeling hunger pains immediately after finishing lunch. Isn't being a new mom lovely? There's no question that breastfeeding increases your appetite.
While people may feel inclined to "eat for two" during pregnancy, breastfeeding mothers require an even greater caloric consumption. In fact, the body needs about 450–500 extra calories a day to help produce breast milk for your baby. Those extra needs can play a big role in why you feel hungry all the time. Want to learn more? Check out on calorie needs in pregnancy. (1)
Do You Need to Eat More While Breastfeeding?
Because of your increased daily calorie needs, supplementing your normal food intake with one or two extra snacks, or having slightly bigger meals is something to focus on.
Although you may feel like no amount of food can make you feel full, here are some tips to help satisfy those persistent hunger cues.
How to Honor Your Hunger and Eat Healthy While Breastfeeding
Make sure your kitchen is stocked with healthy foods for breastfeeding. Don't worry—this preparation process is easier than it sounds. But, simple, nutritious foods combined with quick, easy meal prep can healthfully satisfy your hunger while relieving some of the stress of cooking. Not to mention, having ready-to-go meals will ensure that you always have a nutrient-dense option at your fingertips.
The more nutrients you consume, the more they get delivered to your baby through your breast milk. It's a healthy win-win situation for both mothers and newborns!
Does breastfeeding make you hungry with an appetite that feels out of control? Follow these 8 key tips to prepare for when hunger hits.
Have a plan for when you're exhausted.
Turn one meal into many!
Cut up raw veggies after getting home from the grocery store.
Spread the love and ask for help.
Cook in bulk.
Get out the blender/food processor.
Keep a list on the fridge or in your phone of 10 go-to snacks.
Stock your pantry.
1. Have a plan for when you're exhausted
Look to frozen, microwavable, or canned food items that can speed up mealtime preparations. For instance, put together a plant-based, fiber-rich, and protein-packed three-bean salad with garbanzo beans, kidney beans, and cannellini beans. Toss it together with a simple herb vinaigrette, and voila!
Or, supplement your meals with time-saver side dishes such as precooked quinoa or brown rice that's shelf stable or frozen. Frozen meals can be healthy too, especially if you add in some fresh ingredients to boost the fiber and whole grains. One of my go-to-frozen-meals during breastfeeding was frozen spinach dahl. I added fresh tomatoes and brown rice with a side of fresh blueberries and it was a meal in minutes. And the exhaustion does pass, I promise!
2. Turn one meal into many!
Boiling eggs, roasting veggies, or cooking rice ultimately requires the same amount of effort, regardless of the portion. Preparing extra is an easy way to always have ready-to-go options available when needed. Dust off your InstaPot or slow cooker to help prepare staple ingredients!
For instance, cook some rice, veggies, and top it with some roasted nuts, canned beans, or roasted chicken for a healthy lunch that can supply the family for days! Use glass storage containers, so you can easily see the food in the fridge, use the same containers to eat out of once they're down to their last serving, and then run them through the dishwasher. Saving minutes does really add up to more sleep!
3. Cut up raw veggies after getting home from the grocery store.
Eat them fresh or cook them prepped! This is a great task for a family member who wants to help, but doesn't know how. Give them some veggies or fruit to scrub, cut and prepare. If you don't have any family member nearby, a college student could be a life saver! They don't mind flex time, and usually don't have preconceived ideas on how tasks should be done—so you can show them your way!
These can make a fresh and satisfying snack paired with hummus or calcium-rich Greek yogurt dips. It can also help streamline cooking a meal, such as a vegetable stir fry for the family. Having ready-to-go veggies will make it easier to bring colorful ingredients to your plate, which will translate to additional nutrients for your baby.
4. Spread the love and ask for help.
Grab your older children or partner to be a sous chef to mealtime. Turn store-bought soup into a meal by adding chopped or frozen veggies, or a can of corn to create a heartier soup. Add Greek yogurt to canned tomato soup for a creamy protein meal.
With a little creativity, the healthful yet convenient possibilities are endless. It's also a great way to get kids excited about healthy foods and involved in the cooking process. Check out Cooking with Kids – Helpful Tips for more information on how to be safe in the kitchen with your little ones, and The Super Crew's Breakfast Cookbook for quick and healthy breakfast inspiration.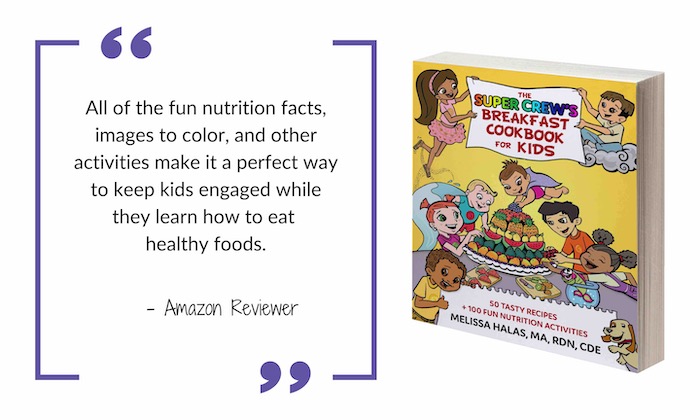 5. Cook in bulk.
Double a recipe, freeze, and date the package. These meals will come in handy when you're too exhausted to do anything more than turn on the microwave.
6. Get out the blender /food processor.
Smoothies are a great way to get a nutritious start to the morning. For easy prep, premix dry ingredients (i.e., ground flax seeds, chia seeds, protein powders, cacao powder, etc.) or a mixture of frozen fruits ahead of time in a reusable container. Come smoothie time, all you have to do is scoop and blend! Easy-peasy!
For delicious recipe ideas, check out the Purple Power Berry Smoothie Bowl, Ginger Lime Turmeric Smoothie, and more! Put the blender back in the fridge unwashed. Every 3 days wash it by adding hot soapy water and turning it on for a minute.
7. Keep a list on the fridge or in your phone of 10 go-to snacks.
Review your list before grocery shopping to make sure you keep them in stock. Healthy energy bars that are wholesome and high in fiber can be a life saver if you're out and about with baby.
8. Stock your pantry.
Fill your pantry with non-perishable yet healthy foods for breastfeeding. You can use these when you don't have the time to go to the grocery store. These pantry items will come in handy for "throw something together" style meals. Here are 5 Easy Meal Ideas to Beat the Dinner Time Dilemma.
So does breast feeding make you hungry? It's safe to say the clear answer is yes. Being a new mom is hard, but proper nutrition doesn't have to be. With a little organization, you can healthfully satisfy your hunger, enjoy delicious family meals, and never miss a moment to bond with your newborn. Keep calm and breastfeed on.