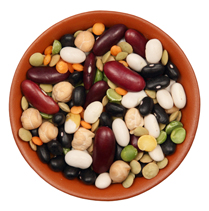 Having a well stocked pantry can help you whip up a nutritious meal in minutes. Keeping pantry staples on hand and adding some fresh ingredients will allow your culinary creativity to shine through at mealtime. Here are some staples to stock up on and ideas for nutritious meals made fast.
Whole Grains: Whole grains are a great source of nutrients and fiber to fill you up. Make a cold rice salad, drop bulgur into stew, or enjoy couscous over a bed of greens. Mix fresh berries and some sweetener in a bowl of hot couscous for breakfast or stir buckwheat into pancake batter for a nutty flavor.
Canned Beans: When you don't have time to cook dry beans, rely on canned beans to add protein to meals in a pinch. Make sure to rinse them to remove most of the added sodium that is found in canned goods. Make a bean salad by adding in chopped cucumbers and tomatoes. Mash beans to form a vegetarian bean burger or blend beans into a sandwich spread or veggie dip.
Canned Tuna/Salmon: Canned tuna or salmon is a great way to enjoy heart-healthy seafood while avoiding the occasional steep price of fresh fish. Mix flaked fish into pasta or green salads, or enjoy on some whole grain crackers. Instead of salads with high fat mayo, try mixing canned tuna or salmon with a hearty mustard for a flavor change.
Oil & Vinegar: These ingredients go hand in
hand to make a wide variety of fresh dressings and marinades when mixed with
lemon or lime juice, spices and seasonings. Homemade dressings go well in
a cold lentil salad, pasta salad, and of course drizzled over salad greens.
Dried Fruit and Nuts: Not just for snacking! Dried fruit and nuts add sweetness and crunch to basic dishes. Add dried cranberries and walnuts into a wild rice dish or mix slivered almonds into a couscous salad for some added heart healthy fats.
Spices and Seasonings: Different spices and seasonings can transform the flavor of a meal. Make sure to have a variety of blends on hand, such as Italian herbs, curry and cumin, and fall flavors like nutmeg, cinnamon and cloves. Change the theme of your cuisine with a few shakes of the spice shaker!
If your goal is to cook nutritious and quick meals for your family with a variety of ingredients and flavors, a well-stocked pantry will get you there. Raid your pantry to see what meals you can make.