Lunches – The Bento Box Way!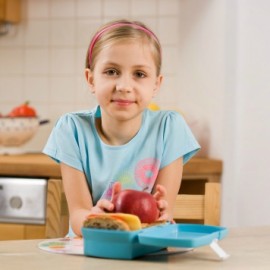 Is your child tired of the same old brown bag turkey sandwich routine? Are you having a hard time incorporating some vegetables and fruits into your child's lunch? Switching up your brown bag routine to a bento lunchbox may be the solution!
What is a bento box?
Bento is a type of Japanese meal served in a container that is sectioned off to have 3 or more compartments to hold various dishes. Is your child sensitive about his/her foods touching? By having these compartments, you can easily avoid foods from touching or getting squished! A bento box usually carries a single serving of an entire meal. It was used to feed people in festivals and parties when it originated in Japan in the early 1300s (1). Some time later, Japanese people started using these boxes to carry their meals when traveling or as a way to pack lunch for work.
The bento way of thinking
By having these compartments, you are forced to add more than one type of foods – which is a great way to add variety and to make a more balanced meal! Use vegetables and fruits to add some color to the meal – there are many health benefits to eating the rainbow colors!
Compartment #1: Fruits and/or vegetables
Compartment #2: Protein (beans, meat, poultry, fish, dairy product, soy product)
Compartment #3: Carbohydrate (whole wheat bread/tortilla, brown rice, potato, corn, green peas)
Here are some ways to spice things up to create a more balanced, exciting, and colorful lunch for your child:
If you are used to having this:

Try this instead!

Why is this better?

Turkey sandwich with turkey slices, cheese, and 2 slices of white bread

Juice box

Compartment #1:

A Half* turkey sandwich with whole grain bread

Compartment #2:

Baby carrots

Compartment #3:

Green grapes

Cut down on the oversized portion of bread and turkey.
Switched to whole grain bread for added fiber, nutrients, and protein
Added vegetables to provide more fiber, vitamins, minerals, and antioxidants!
Replaced the juice with an actual fruit serving for added fiber and nutrients

2 slices of pizza

Compartment #1:

Whole grain pita bread slices and sugar snap peas

Compartment #2: hummus

Compartment #3:

Sliced strawberries with few cubed mozzarella cheese

Reduced the serving of cheese and refined carbs (pizza crust)
Switched to whole grain for added fiber and nutrients
Added healthy fats and protein via hummus
Added vegetables and fruits for more fiber and nutrients

Peanut butter & Jelly Sandwich on white bread

A bag of graham crackers

Compartment #1:

A half sandwich – peanut butter & all fruit jam (or sliced banana) with whole grain bread

Compartment #2:

Low-fat/fat-free yogurt topped with blueberries

Compartment #3:

Vegetable skewer with soybeans (edamame) and cherry tomatoes

Cut down on bread to make more room for other nutritious foods
Switched to whole grain for more fiber and nutrients
Switched to all fruit jam to reduce sugar
Replaced crackers with yogurt for calcium and protein
Added vegetables and fruit for added fiber and nutrients

*Depending on the age group, a full sandwich offered with vegetables and fruit may be more appropriate.
Do these swaps look reasonable to you? They can all be whipped up in less than 10 minutes – you just need to plan ahead to make sure you have all the ingredients! Remember, the more exposure your child gets to eating vegetables, fruits, and other nutritious foods, the more likely they are to develop healthy eating habits into adulthood.
Here is an easy bento recipe to try out!
Simple Fried Rice Bento Recipe
Ingredients:
Leftover Fried Rice (see below for a recipe)
1/4 cup Frozen soybeans
1/2 teaspoon salt
2/3 cup Fruit cubes (strawberries, grapes, pineapple)
6 toothpicks or plastic skewers
Directions:
Bring 1-1/2 cup water to a boil in a small saucepan, add a dash of salt and let it dissolve. Throw in the frozen soybeans (not shelled) and let it simmer for 1 ½ to 2 minutes.
Strain the content through a colander to drain. Let it cool.
If using toothpicks (make sure the child is old enough to prevent injury!), rinse them with water and roll them in your hands to ensure there are no splinters.
Skewer cooled soybeans – about 5 per skewer.
Skewer strawberry, pineapple, and then grape.
Place vegetable fried rice in the biggest compartment, then place fruits and soy kabobs in the other two compartments.
Here is the nutrient breakdown:
Carbs, Veggies & Protein: Vegetable & Egg Fried Rice (recipe below)
Protein: Soybean skewer
Fruits: Fruit kabob
Garlic Fried Rice Recipe (this yields about 6-8 servings)
Ingredients:
4 cups cooked rice (mix 2 cups brown rice with 2 cups white rice)
1 tablespoon vegetable/peanut/canola oil
2 beaten eggs
1/8 cup thinly sliced green onions
1-2 teaspoon minced fresh ginger (or ginger powder)
3 cloves minced garlic (or 2 teaspoon garlic paste)
2/3 cup shredded carrots
2/3 cup broccoli (cut into small pieces)
2/3 cup frozen peas
1 tablespoon sesame oil
1/4 cup soy sauce
White pepper to taste
Directions:
Heat a nonstick skillet over high heat and add peanut oil. Once the oil is heated, add egg mixture and scramble.
Add green onions, garlic

,

and ginger to the pan and toss for a minute.
Add carrots and broccoli, and continue to stir fry for 1 ½ minute.
Add sesame oil, rice

,

and green peas and mix. Stir fry the mixture for 2-3 minutes.
Add soy sauce and white pepper and stir fry for 1-2 more minutes.
Serve
Reference:
(1) Le Cordon Bleu North America Culinary School. (2012, February 27). A closer look at the bento box trend. Retrieved June 2, 2015, from Le Cordon Bleu: http://www.chefs.edu/student-life/culinary-central/february-2012/a-closer-look-at-the-bento-box-trend
---
---
Similar Articles You May Like...
---
---
Subscribe to SuperKids Nutrition!
---
---