Did You Know… Veggies' unique colors are packed with health promoting power?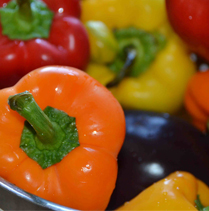 Each color group of fruits and vegetables supplies a variety of health benefits while
providing visual appeal to your plate.  Be sure to include an assortment of colors in your diet.
Remember to eat the colors of the rainbow. To learn more about easy ways to include color variety in your diet visit Fun with Fruits & Vegetables.
---