Creating Healthy Holiday Traditions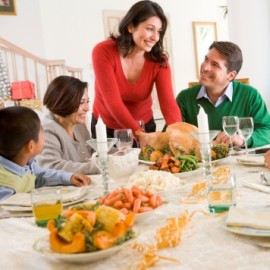 What's your favorite childhood family holiday tradition? What traditions do you have with your kids today that are healthy? Traditions can be passed on for generations, so why not create some healthy traditions for your family that they can enjoy that include good nutrition, an active lifestyle, and family bonding.
Keep some Traditions True
Go Christmas Caroling:  old-fashioned but the fun still continues. Singing Christmas carols gets your family moving and is an opportunity to make long lasting memories!
Stocking stuffers: instead of packing your children's stockings with candy and other sweets, offer them nuts in the shell and a fun-themed nutcracker. Kids will love breaking the shells open to find the treasure inside. Go Dark: if chocolate is a tradition opt for one at 71% dark or more. It has less sugar and has health-promoting flavanoids. If you buy dark chocolate with mint or cherries your kids may find the flavor more acceptable to their blossoming tastes.
Christmas in January?  Worried about what to do with all those holiday leftovers? Pack them up and store them in the freezer to revisit the holidays at a later date. As a general rule, cooked foods are good for about one month in the freezer. Be sure to mark the date with a permanent marker.
Eat with Mindfulness: be sure to slow down and really enjoy some of your holiday favorites with the kids. Sit down together in the kitchen and take your time to eat a dessert, cookie or treat mindfully. It's easy to gobble down 5 or 6 cookies and think where did they go? Learn steps to teach your children to eat with awareness.
Host a healthy cookie swap:  the ground rule will be that all parties agree to cut the sugar by 1/3 or ½. Try applesauce or bananas to replace sugar. You can also substitute Greek yogurt for part of the butter or oil, or flaxseed meal for part of the oil or eggs. See baking substitutes for more ideas. You can have a competition, too, for the cookies with the best nutritional value and taste.
---
---
Similar Articles You May Like...
---
---
Subscribe to SuperKids Nutrition!
---
---