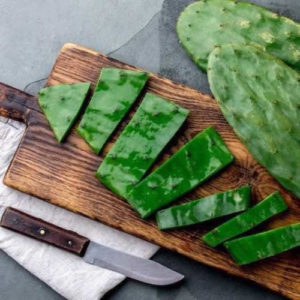 Swap those green eggs and ham with green nopales and eggs for a new take on brunch! This vegetable might be new to you, but it has a rich history in Mexican cuisine.
Nopales, the "pads" of the cactus plant, have been consumed as a vegetable component in over 200 recipes and preparations since the Aztec Empire. (1) The Mexicans recognized all the beneficial ingredients in nopales, and so they consumed and used it topically as a form of medicine. Today, this plant has made its way into different cuisines all over the world.
This plant contains a multitude of useful nutrients and minerals that help ensure optimal gastrointestinal functioning and maintenance of strong bones.
Nutrition Value of Nopales
Nopales contain fiber, which can help create bulk and facilitate the smooth passage of food through the system. (2) Bye-bye, constipation! (More on healthy bowels and constipation in our free guide The Scoop on Poop.)
We all know that the development of strong bones is important for adequate growth and development. Calcium and phosphorus are two components necessary to build a strong frame, and nopales contains both! (3) The recommended amount of calcium for kids ages 1-3 is 700 mg of calcium a day, and for kids 4-8 years old is 1,000mg per day. (2) Nopales have about 140 mg per cup! (4)
Paired with a little fruit and milk, this recipe has the protein, fiber, and carbohydrates your kid (and you!) need to stay satiated throughout the morning. Your kids will be saying, "More napoles, please!" in no-time.
Curious to see how this fits in a sample day of meals for your 5-year-old? Check out our Meal Plan for a 5-Year-Old with Mexican Flavors.
Nopales and Eggs
This nopales and eggs Mexican breakfast is a fun way to explore new flavors with the kids.
Ingredients
Ingredients for Eggs:
1/2

cup

precooked de-thorned nopales

edible cactus

1

egg

whisked in a bowl

1/8

cup

diced onion

1/8

cup

diced tomato

2

6"

corn tortilla warmed

Salt, spices (cumin, pepper), herbs (chives), salsa to taste
Sides:
4

strawberries

1

cup

low-fat/nonfat milk

or Lactose-free, fortified soymilk
Instructions
Chop nopales into 1-inch squares.

In a pan on medium-low heat, cook the nopales from a vibrant green to an olive-green color. During the cooking process, nopales release a thick, water-like liquid that evaporates during the cooking process. In Spanish, it's referred to as the "saliva" of the nopales.

Dice the onion and tomato. Add the ingredients to the pan once the nopales are almost fully cooked. Mix until fully incorporated. Sautee for an additional minute.

Once the onions are translucent, add the egg into the pan. Mix until fully incorporated.

Cook the egg thoroughly. Remove from heat.

Season with spices, herbs, and salsa per your preference. Serve hot and enjoy!

Serve with a side of low-fat milk and strawberries.