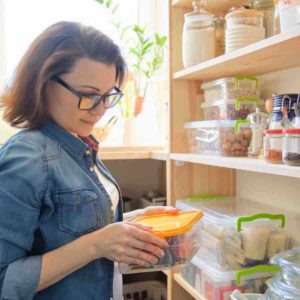 Here are some Coronavirus well-being tips on how to avoid "cabin fever" and maintain both you and your family's health and sanity while under quarantine.
Coronavirus has forced people into their homes for the foreseeable future. While the first few days may have passed with ease, morale is quickly shifting. Without the structure of your daily routine, days can become a blend of working from home, entertaining the kids, and binge-watching Netflix. Use these Coronavirus well-being tips to stay on track and prepare the supplies, your minds, and bodies.
Prepare the Supplies
Having the proper resources for quarantine is a huge piece of the puzzle. Maintaining proper nutrition can keep the immune system, brain function, and physical health going strong. Utilize these strategies to be prepared for global lockdown.
Buy in Bulk
If you have the extra space, take advantage of buying food items in bulk. This will minimize trips to the grocery store and be part of the solution to minimizing the spread of Coronavirus (COVID19). The more your family is able to stay inside, the safer they will be.
Load Up on Basics
Having ample amounts of long-lasting ingredients is the key to maximizing food boredom and reaching for junk food stashes. Make sure your pantry is stocked with healthy legumes, grains, and canned goods like pineapple in its own juices – yum! And don't forget about frozen fruits and vegetables. For more ideas, check out "Feeding the Family During Coronavirus Quarantine."
Prepare the Mind
Staying indoors for weeks on end can be a hard pill to swallow. It's important to keep the mind occupied to maintain general well-being. Consider these Coronavirus well-being tips on how to overcome the mental battle of being in quarantine.
Mindful Eating
People have a tendency to eat when they are bored. With potentially weeks or even months of quarantine ahead, those moments of boredom may become even more frequent. COVID-19 should not have to turn into a household equivalent of the "freshman-15," (which research shows is actually around 7-10 pounds). During this time, pay close attention to your hunger cues. At the beginning of confinement to the home, it's possible that everyone's hunger cues may feel out of whack. It's totally normal. It takes time for the body to adjust to its new normal. But, ideally, people should eat when they are hungry and stop when they are satisfied. Try to avoid the natural gravitation towards the pantry snacks for reasons other than hunger. By eating healthy and satisfying snacks, you may also find it easier to fight temptation. Opt for meals and snacks that are high in protein, healthy fats and fiber, in order to avoid mindless eating. Also, don't watch TV while eating, better to say to the kiddos, let's eat now, and watch a show when we're done eating as a family.
Find An Outlet
With all our favorite activities currently on hold, find a stress-relieving outlet: Journaling. Mandala art. Scrapbooking. Music. Having some time where the focus is shifted away from the stress of the virus will help maintain overall well-being.
Remain Social
It's easy to fall into a feeling of social isolation while in quarantine. But just because you can't enjoy the usual coffee meet up does not mean that you can't be social. With the help of FaceTime, Google Hangouts, and Skype, you can make the most out of social distancing. Maintaining communication with friends and family is a life necessity that shouldn't be limited by physical presence. Just this week, we had a lunch date with two friends via zoom, and got invited to a Google Hangout dinner.
Make a Schedule
Just a few months ago, you were like a well-oiled machine: Wake up. Breakfast. Work or Home Responsibilities. Exercise. Socialize. Dinner. Chores. Relax. Bed. But, the shift to working from home or schooling the kids full time in combination with self-isolation has ultimately thrown a wrench in your daily life. Your schedule should not have to change drastically, depending on your line of work. By maintaining normal life within the comfort of your home, you decrease the likelihood of growing sick of your surroundings. We're using a Google Calendar and scheduling chores, events, and downtime in two-hour time blocks with all three meals enjoyed together. It's creating both efficiency and some time to relax! Maybe this will be one of your go-to Coronavirus well-being tips too!
Stick to the Rules
Part of maintaining life's sense of normalcy is keeping the same household rules. If your family has a "No TV during the school week" policy, stick to it! Just because the kids are home does not mean that the rules don't still apply. Substitute screen time for a family game of cards, scrabble, monopoly, charades, and more! You can also encourage independent activities, such as reading and crafts.
Prepare the Body
At first, quarantine might feel like a childhood sleepover. You spend all night watching movies and do not change out of your pajamas. Use this time to maintain or improve your physical health, and avoid falling into a sedentary lifestyle and sneak exercise into everyday movement. Use the helpful steps below to prepare your body for confinement.
Exercise
Without the gym or your favorite exercise class, it can be a challenge to maintain your fitness. But don't let a lockdown stop you from getting your sweat on! It will help maintain your physical health and improve your mental well-being. It's also a great way to keep the family entertained! Bring back the old-school workout videos and get moving, you may even carve out space for a home gym. You would be surprised by how much exercise you can get in your own home. Find a YouTube video or work out app to enjoy together. Check out Amazon prime videos or if you have cable, on-demand offers many exercise videos.
Maintain a Normal Sleep Schedule
That means your sleep habits too, mom and dad! While under quarantine, it's easy to lose a sense of time. Days become a blend of both day and night, without any true distinction. But during this difficult time, maintain a sense of normalcy in your sleep schedule. Bedtime should remain consistent—you can continue your Netflix show tomorrow (as real as the characters seem, the suspense won't kill you). This will help prevent a constant state of fatigue, mood swings, lack of focus, and other negative effects of poor sleep quality (you know it's true).
Coronavirus is a global pandemic that has brought forth an immense amount of uncertainty. But maintaining morale is critical for long-term mental health. If everyone does his or her part, this stressful time will come to an end. In the meantime, keep calm and carry on…in your home if you're able. If you feel overwhelmed, come back to these Coronavirus well-being tips for direction. If you have a job, serving those who are quarantined, or provide medical care –THANK YOU and wishing you a safe journey through this difficult time.