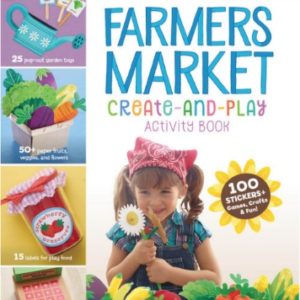 Are you looking for a fun way to get your youngsters more in touch with the foods they eat? This interactive book leads children through the supply chain of "farm-to-table" with more than 100 stickers, and over 150 punch-out pieces.
by Deanna Cook
This post contains an affiliate link. As an Amazon Associate, we earn from qualifying purchases. The link is noted with an asterisk (*) or Amazon image.
What is the book about?
Deanna Cook's book, Farmers Market Create-and-Play Activity Book* is the perfect place to start- especially when the weather is getting cooler and you're in search of fun indoor activities!
 Starting at the farm, your kiddos will become more familiar with farm tools and machines, the farmer's lifestyle, and the foods they can find on a farm. From there, they will also learn basic gardening techniques. Guiding them through these activities is a great way to encourage healthy eating habits!
Once the children are more familiar with how food is grown and produced, Cook leads them to the next link in the supply chain- stocking the shelves. She introduces the idea of produce stands and even includes a step by step guide of how to create a farm stand in your playroom. Once the shelves are stocked, the kids can practice their math skills by selling their food to family and friends!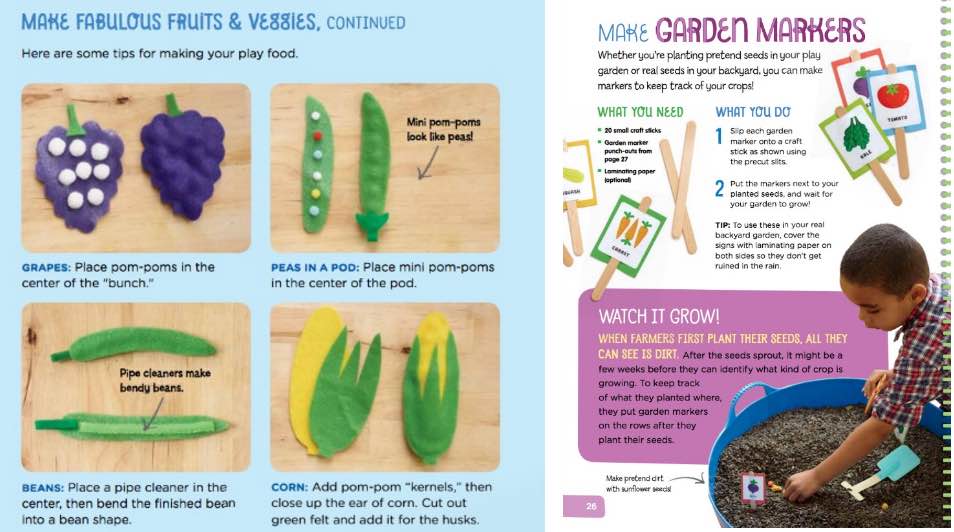 This hands-on approach for imaginative play builds a sense of community. Besides the simplicity of the activity book, Cook captures the importance of supporting local farmers and provides a sensible way to introduce sustainable eating. You can buy the book on Amazon.
Watch the book trailer here.
After reading this book with your children:
Ask them to explain how their food got onto their dinner plate
Buy materials to grow a fruit or vegetable in your windowsill or outside garden
Take them to your local farmers market at least once a month, so the information stays fresh in their minds!