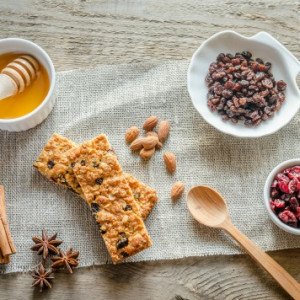 Are you fed up with the same old foods? Bored of routine meals? Before you put your staple ingredients away, consider giving yourself a menu makeover!
Oats Aren't Just for Oatmeal!
Oats are more versatile than they get credit for. Here are some creative "out-of-the-box" ways to use them:
Meet kids' energy needs with homemade energy bars. Simply mix together your choice of rolled oats, chopped nuts, nut butter, mashed banana, agave syrup or honey, juice, dried fruit, or seeds, etc. and bake on a sheet pan at 350ºF for about 20 minutes until firm. Experiment with a few blends to find a mixture you like.
Oats can be used for a fun-shaped, delicious snack. Make Oat Balls by combining ½ cup crunchy (no sugar added) peanut butter, ¼ cup non-fat milk, and ¼ cup unsweetened, shredded coconut in a bowl. Stir in 1/3 cup rolled oats, ½ tsp cinnamon, ¼ cup crushed graham crackers or wheat germ, and ¼ cup honey. Shape into balls, roll in sesame seeds (optional), cover, and refrigerate.
Pump up your smoothie! Turn a smoothie into a meal by blending in oats for extra fiber and bulk that will fill you up all morning. Or try overnight oats for those busy mornings.
Add oats to pancake or waffle mix and see how you like the different texture variation. Check out these 100% oat banana waffles that are also gluten-free.
Tasty Fruit Smoothies
Stuck in a smoothie rut? We've got you covered.
Our favorite smoothie recipe uses just 4 ingredients! Play with add-ins for endless flavor combinations. Add about 3 cups of sliced bananas and berries, 1 ½ cups non-fat milk (soy milk, unsweetened coconut milk, or almond milk work too), and 2 cups cubed ice to a blender or food processor; blend until smooth. For a little bit of tang, add some orange juice to the mix. Boost creaminess by swapping yogurt for the milk, or adding avocado. Sneak in some healthy fats and added fiber with a bit of flax meal, chia seeds or hemp seed. Pour into 8 ounce cups and enjoy a cool, smooth treat.
Green smoothies are all the rage. Get mean and green with this power smoothie that's full of Vitamin A. Add 3 kale leaves, ½ cup of frozen mango, ½ a banana, 1 cup of milk (regular, soy or other plant-based), and 5 pecan halves to a blender and watch your fruits and veggies whirl into a smooth green color! Mmm… Monstrously good! Check out these other variations – pineapple green smoothie and cucumber, apple, kale smoothie.
Vegetable Dips That Will Make You Flip:
No more boring ranch dip! Try these new and exciting dip flavors for your next get-together. Serve with slices of celery, baby carrots, red peppers, jicama sticks, cucumbers, and more!
Mash avocados with salsa, lime juice, a dash of salt and cumin, and finely diced cucumber or zucchini for a veggie-filled guacamole.
Try a new variation of store-bought hummus or make your own! Try adding chipotle spices or chopped garlic. Hungry for some hummus yet? Hummus is also great in a tuna or salmon tartine. Mix plain Greek yogurt with hummus in a 50/50 ratio and add to baked sweet potatoes or use as veggie dip. Hummus added to balsamic vinaigrette makes a creamy and delicious dressing.
Do the salsa… on a ranch! Combine salsa with ranch dressing for a creamy, tangy, savory, and sweet dip. Vary your salsa for tropical or spicy flavors!
See these Tasty and Healthy Dips for even more yummy dip ideas.