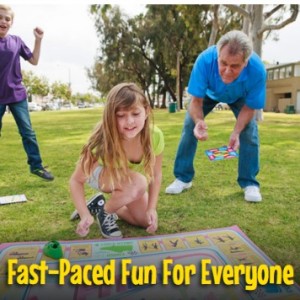 We caught up with Sandy Spin Slade, entrepreneur and creator of Skillastics and Fitivities, who is inspiring kids throughout our country to be more active, all while having fun!
You have an interesting story about how your childhood influenced your career choice –can you share your story?
I grew up in a small town in northern Wisconsin, population 590; I graduated from a high school with 29 kids. I grew up on a small farm, and my dad was the basketball coach and principal of the school—so I basically grew up with the sport of basketball. When I was 12 years old, I went to basketball camp. I saw a lady putting on tricks with basketballs and thought: this is what I want to do with my life. I got home and told my parents I was going to spin basketballs for a living. They laughed and thought it would only last a week—but, by my junior year, I was performing and putting on small shows in towns in northern Wisconsin.  I give my parents' so much credit because they supported me so much. My parents told me, "We don't want to squash your passion. Get your education, but if this is what you want to do, go for it!"
Can you tell us how your dreams led you to be a double in an action movie?
I played college basketball at Fresno State University, and, after I graduated, I was crazy enough to think I could make a living from performing. The first NBA team to hire me was the Chicago Bulls.  I made a videotape, received a letter of recommendation, and sent them to every NBA team in the country. Things started to slowly come together, and eventually, people started hiring me all the time. It was a process, but it was also something I really enjoyed. Being able to make living dribbling basketball and performing is unique and different. Because of this, there was an opportunity in the movie Catwoman to play the double of Halle Barry in a basketball scene—and I ended up getting the role.
What inspired you to make the transition from Sandy "Spin" Slade, performer, to Sandy "Spin" Slade, a business entrepreneur?
At 20, you think you can be an entertainer forever. In my mid-30s, my body started letting me know that was unrealistic—being a professional athlete has its age limitations. Ironically, at this point, someone asked me to teach basketball fundamentals to physical educators at a conference. I did the workshop and absolutely loved it. I had something to share and became known as an expert at teaching basketball fundamentals. I listened to concerns: how do we get so many kids to enjoy working on the basic fundamentals of basketball without it becoming complete chaos? How do we get kids that love the sport as well as kids that are intimidated by the competitive nature of the sport to play and enjoy basketball? I kept thinking: how can I help? And that's how I came up with the concept of Skillastics. From the success of the basketball Skillastics, I knew I had something to offer people. I started creating variations; there are now 12 variations found in over 25,000 schools and after-school programs, used by 10 million students. People that took the workshops loved Skillastics and would tell me "I love this. I wish I had this technique at home." My main focus was to change the way society views physical activity. It has to be simple, it has to be fun, and it has to be affordable. So I took the Skillastics technique, twisted it into a family version, and that's how Fitivities was born.
Can you tell us more why kids need fitness to be fun?
We are an instant gratification society; people want to succeed immediately. If children don't succeed quickly, they will lose interest and find something else to do. It's so important to reach kids immediately—here's a fun activity, you're succeeding at it, you're laughing, and you're getting up and moving, all while changing your lifestyle. Learn how to make fitness fun for the whole family.
Fitivities sounds so unique—can you tell us how it works and why kids, schools, and families like it?
Fitivities is a game that has 20 different physical activities on a mat, with modifications for each activity. Fitivities is simple to set-up (within 15 seconds), easy to learn, and for all ages and all abilities. It's for both the people who love to be active and the people who don't want to move off the couch. Everyone can succeed, everyone can have fun, and everyone can benefit from being physically active. For instance, if someone does not want to get on the ground, we provide modifications so they still can be completely involved in the game. It's not about perfection; it's about participation. What's nice is that on our website, https://www.fitivities.com/, we provide videos of each activity plus the modifications, so there are visuals on top of the instructions shown in the rule booklet. Finally, there is the idea that anybody can win the game. The expectation is usually that only the athlete can win, but that's not the case!. A grandma, who may not be active at all, can win just as easily because of the spinner cards that add a level of chance to put everyone on a level playing field.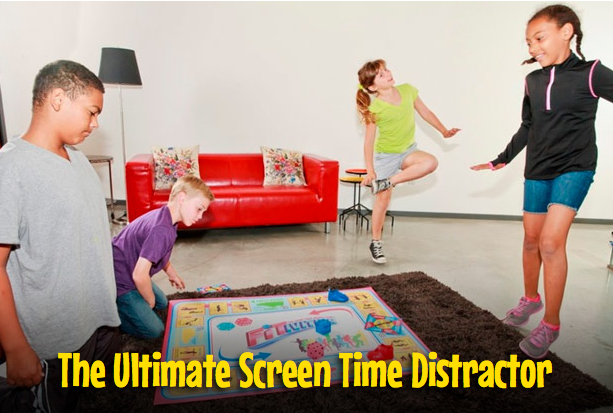 How do you get both children and parents excited about being active?
The big thing is educating them; people have it in their minds that they have to spend two hours in a gym working out or they have to go outside on a long walk. People feel like they have to spend so much time being active for any type of benefits. Although going to the gym and walking are beneficial, there are other ways to be active. It's been shown through research that if you spend 5-10 minutes on moderate to vigorous physical activity, which equates to slow-paced jogging, fast-paced walking, or playing Fitivities 5-10 minutes, you can reduce your heart rate and your chances of a heart attack or stroke by up to 45%. It's not that you have to spend all these hours being active. For those people that are not willing to spend time at it or that don't know how to be active, something like Fitivities is a perfect answer for them. It's about having fun and laughing with your family, and you get the health benefits along with it.
How big of an impact do you think parents have in keeping children active and at a healthy weight?
I think there is a direct correlation. Children are looking at their parent as guides. I know I am physically active because my parents were physically active. My parents believed in doing things outdoors and getting involved with sports. I think we mirror our parents when we're kids. Even if parents may not be active themselves, just offering support and encouragement, or even participating in something like Fitivities, can help drive their kid to be active because kids love doing things with their parents. I loved shooting hoops with my dad. My mom would come out, and we would all goof around. Just participating makes all the difference, and Fitivities makes it easy for parents to participate.
Now that you're retired from being "The Spin Lady," how do you practice what you preach and stay active?
I go to the gym, run, lift weights, cross train, ride the bike, swim, and still shoot baskets sometimes. I have some injuries, so I can't do everything I used to do, but that's okay. I golf, hike—even when I'm injured, I stay active. I just do a different type of activity. With athletes, it can be difficult to slow down, because we have it ingrained in our heads to work 110% all the time. But after you get to a certain age it becomes counter-productive— it can damage your joints, your muscles, etc. I've learned to listen to my body and do what I can. I'm enjoying not having to work at the professional-athlete level that I used to.
Do you have any parting words of motivation or tips to inspire a physically active lifestyle?
I believe that you've got to change your mindset. If a family decides we need to be more active, that's the biggest step. Changing your attitude, understanding you don't have to spend a lot of time at it, and being creative. If you're a TV-watching family, just getting up at the commercials and dancing for the full length of the commercial is being physically active. Putting a string across two chairs and hitting a balloon back and forth is being active. Jumping back and forth between each door in the hallway is being active. Skipping around the kitchen table is being active. Making things a game is so important—by doing that, you are going to have so much fun, and it will continue to be a part of your lifestyle. If you're a parent struggling with fitness -check out 5 ways to avoid skipping your work-out!