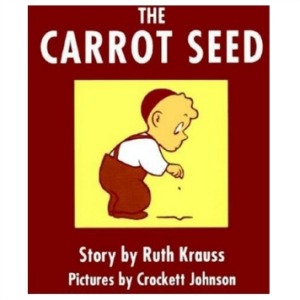 This book is a great introduction to elementary agriculture. Children learn how seeds are cultivated and that the green tops come out of the land first!
Story by Ruth Krauss
Pictures by Crockett Johnson
What is the book about?
The Carrot Seed tells the story a young boy who plants a carrot seed and tends to it.  The little boy listens quietly as his mom, dad, and big brother all tell him "it won't come up." The little boy continues to tend his carrot seed until a large carrot erupts from the ground and the little boy wheels it away.
Originally published in 1945, the book's 101 words tell a powerful story of faith, determination, or instincts- depending on your interpretation. The simple words and illustrations are a refreshing change from the overly loud books and toys of this generation. In fact, the brightest color in the entire book is the carrot itself! While it is difficult to tell from the boy's wide-eyed face how happy he is that the carrot came up, his sense of pride is evident nonetheless.
An interesting part of this book is that the portrayal of the growing carrot is true to life.  When the carrot comes up from the ground, the reader only sees the sprouting green carrot top. This might confuse most children who think that carrots grow completely orange, the way we see them in the supermarket. Children will also find this book easy to relate to. After all, it is about a child who knows better than his parents!
After reading this book:
Visit a large supermarket, a green market, or a farm and take notice of the vegetables that have green tops (i.e. notice the beet greens, scallions, turnip greens, carrot greens).
Plant some seeds at home.  You can buy a kit in a store or just buy the seeds and do it yourself.  Kids will love to tend to their own plant and watch it grow.
Cook foods that use beet greens or turnip greens to show children how different the greens taste from the vegetable.
Draw pictures of fruits and vegetables in their entirety (with their peels, skins, and tops).