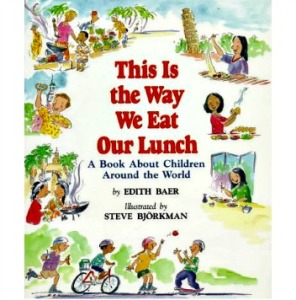 The simple rhymes in this well-illustrated book take us through different regions to show us what children around the world are eating at lunchtime.
Story by Edith Baer
From Ram in India enjoying his curry, to Flora gobbling up tamales in Colombia, to Mira enjoying hummus on pita, each page provides an interesting snapshot of a different lifestyle and type of food. Why not share this book with your child before trying a new type of ethnic dish? The book provides three easy recipes for fruit salad, hummus, and wild rice soup that you could make together!
After reading this book with your child:
Prepare a new dish for your child from the recipes in the book, and have them help out while you make it.
Let your child point out foods that they have never had. Let them pick something new that they would like to try, and make it at home.
Take your child to the grocery store and point out new spices and foods that you read about in the book.