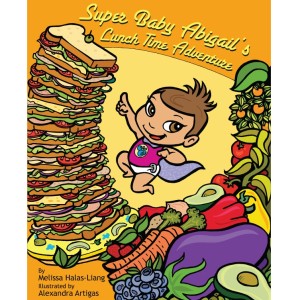 Overflowing with gorgeous pictures of healthy, delicious foods, Baby Abigail's adventure creates the perfect opportunity to introduce nutrition concepts in a kid-centric way.
By Melissa Halas
What is this book about?
Baby Abigail is back for more fun times with the Super Crew! This time, she's using a Fruit and Veggie Growing Machine to make a tasty, nutritious lunch. Along with her Super Crew friends, Baby Abigail's excitement over the fruits and vegetables they grow and use for their lunch is infectious. It left my mouth watering, too!
Like other books in the series, this book does two wonderful things: first, it provides nutrition information in a subtle, kid-friendly context that doesn't feel like 'lessons'. Second, the author includes lots of fun, practical suggestions for teachers or parents to continue promoting good eating habits in kid-appropriate ways. These two features truly set the Super Crew series apart and make it a worthwhile and enjoyable read with the kids in your life.
After reading this book:
Ask your kids what they would grow with a Fruit and Veggie Growing Machine.
Come up with 3 new meal or snack ideas using the fruits and veggies they like best in the book.
Plant, tend and harvest a fruit or vegetable plant with your kids.  Explain how growing your own foods helps contribute to a healthy diet and a healthy planet.
Have fun together with the online activities that accompanying the books.
Teacher's Tip:  Incorporate this book into preschool and kindergarten lesson plans to get your student's developing healthy eating habits for life.
Super Baby Abigail's Lunchtime Adventure, Melissa Halas. SuperKids Nutrition, California: 2008.