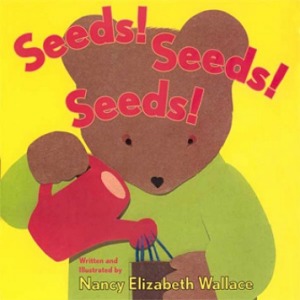 Learn Buddy Bear's gardening tips and all that he does with his seeds, then have the kids join in to create their own garden!
Written and Illustrated by Nancy Elizabeth Wallace
Seeds! Seeds! Seeds! tells the story of Buddy Bear, a young cub, who receives in the mail from his grandfather a package of seeds to plant. Buddy begins a seed collection and adds to it every time he eats a healthy, seed-containing snack with his mother. By the end of the story Buddy has successfully grown a plant with his seeds, made seed crafts, fed birds, and learned all about how seeds grow into plants, fruits, and vegetables.
What will your kids learn?
Nancy Elizabeth Wallace's creative and colorful illustrations will help your child learn about healthy foods and how they grow from seeds. Simple and easy to understand explanations for new vocabulary words are used throughout the story for terminology such as "germinate" and "embryonic." Photos of real seeds will help young readers to identify and apply lessons from the book. Fun activities are included and will be sure to "sprout" an interest in healthy eating and growing fresh produce for all readers.
Activities to Try
Growing your own plant
Starting a seed collection from different foods at home
Decorated a picture frame or other crafts with seeds, nuts and beans
*For grades K-3
See Gardening with Little Ones for tips on getting a garden started with your child or classroom.
Teacher's Tip
Consider starting a school vegetable garden in a few wooden barrels. Children will enjoy planting and watching things grow. You will introduce healthy foods while teaching kids how to provide love and care responsibly.
Seeds! Seeds! Seeds! by Nancy Elizabeth Wallace. Marshall Cavendish Inc. New York: 2004.