Obesity Trends In Children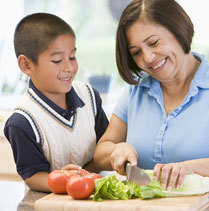 One of the greatest health concerns affecting our children is the epidemic of obesity
and overweight. The Centers for Disease Control (CDC) indicates that among young people, the prevalence of overweight decreased for those aged 2-5 years, from 13.5% in 2003-2004 to 8.4% in 2011-2012 (1). However, the prevalence of overweight and obesity has remained fairly stable among youth 2-19 at around 17% — a number still troublingly high. No one group has escaped the epidemic of obesity; it transcends across gender, age, racial and ethnic groups. The prevalence of overweight or at risk of overweight from the 2011-2012 National Health and Nutrition Examination Survey (NHANES) is listed below.
National Health-E Statistics
| | | | | |
| --- | --- | --- | --- | --- |
| Age | 1963-1970 | 2007-2008 (2) | 2009-2010 (3) | 2011-2012 (1) |
| 2-5 years | <5% | 10.4% | 12.1% | 8.4% |
| 6-11 years | 4.2% | 19.6% | 18.0% | 17.7% |
| 12-19 years | 4.6% | 18.1% | 18.4% | 20.5% |
| Total | <5% | 16.9% | 16.9% | 16.9% |
Ogden, CL, et al. Prevalence of Childhood and Adult Obesity in the United States, 2011-2012. JAMA 2014; 311(8):806-814. doi:10.1001/jama.2014.732.
Flegal, KM, et al. Prevalence of High Body Mass Index in US Children and Adolescents, 2007-2008. JAMA 2010; 303(3):242-249. doi: 10.1001/jama.2009.2012
Ogden, CL, et al. Prevalence of Obesity and Trends in Body Mass Index Among US Children and Adolescents, 1999-2010. JAMA 2012; 307(5):483-490. doi: 10.1001/jama.2012.40
---