What is Fiber?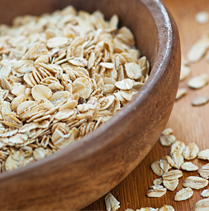 Fiber is a substance found in plants that the human body cannot break down. The two types of fiber are soluble fiber and insoluble fiber. Soluble fiber can dissolve in water and is found mainly in oats, beans and fruit. Insoluble fiber cannot dissolve in water and is found in whole grain products and vegetables. In particular, soluble fiber helps to control blood sugar and cholesterol levels and insoluble fiber aids in stool formation and release. Both types of fiber are beneficial to health so it is important to eat a variety of high fiber foods.
Benefits of Eating Fiber
Helps control blood sugar and blood cholesterol levels
Aids in stool formation and release and can prevent constipation
Digestion occurs more slowly so you may feel fuller sooner
Helps with healthy weight management
May reduce the risk for certain types of cancers, heart disease and obesity
Foods high in fiber are often high in antioxidants, vitamins and minerals,
and low in fat, cholesterol and calories
---
---
Similar Articles You May Like...
---
---
Subscribe to SuperKids Nutrition!
---
---