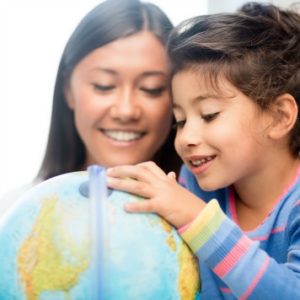 Read on to find out how you can foster sustainable living concepts with your kids and family!
Sustainability is a topic that has been gaining a lot of attention in recent years, with the ever-increasing world population. But what exactly is sustainability? Living sustainably means making lifestyle choices in the present that don't compromise or damage the environment for both the present and future generations (1). You can incorporate sustainability into many areas of your family's life. Here are a few fun activities focusing on food choices to inspire your kids or students to be planet-friendly eaters. Modify these activities to make them age-appropriate for your children or class as needed.
Calculate food miles.
On average in the United States, conventional foods travel roughly 1,500 miles to reach the consumer's table and release between 5 to 17 times more carbon dioxide gas when compared to their locally produced counterparts (2). This activity will get your kids thinking about how far food travels to reach our kitchen tables. First, pick out a few different food items in your kitchen. Investigate where each item was grown, packaged, and produced. If it's hard to tell, you can use the internet as a resource. Pull up a map and pinpoint its origin. How many miles did it travel to get to your home?
Ask your child: What resources are required for the transportation of food? What impact will transporting food have on the environment? How can we find food that was grown nearby? What foods do you like that are only grown far away? Nearby?
Investigate food packaging.
Start by selecting a variety of items in your kitchen that have a range of different types of packaging. One at a time, evaluate the types of food packaging each item has. Is the packaging recyclable, or does it have to be thrown away? Do any items have no packaging? Encourage your kids to think about what impact these different types of packaging have on the environment.
Bonus project: Select an item that has a lot of packaging and make a home-made version with your child!
Be a scientist! Do a local vs. conventional taste test.
Stop by your local farmer's market or farm stand and pick out several types of locally grown produce. Then go to a grocery store and find their conventionally grown counterparts. At home, sit down with your child and compare each food one at a time. Encourage your children to use all of their senses – sight, touch, smell, hearing, and taste.
Ask your child: How does each one look? Feel? Smell? And lastly, taste? Are there differences between the local and conventional versions? What could be the reasons for those differences?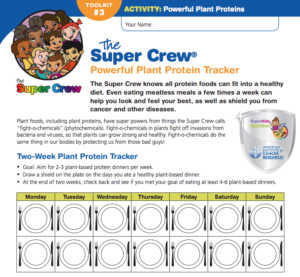 Share a family meal featuring veggies and plant-based food and proteins.
Aside from the environmental benefits associated with eating locally and in season, another way to up your family's sustainability game is to shift your focus from animal to plant-based proteins. In fact, one study proposes that making this switch can reduce your carbon footprint even more than eating locally (3)! Here are a few more facts:
On average, the process of producing animal-based protein uses 100 times more water than growing an equivalent amount of grain-based protein (4).
Producing animal-based protein uses an average of 11 times more fossil fuel energy than an equivalent amount of grain-based protein (4).
Focusing on boosting more plant-based sources of protein can help save water and energy! With this in mind, try tracking your meatless meals for a week with the Super Crew Plant-Based Meals tracker. Set your own goal, for example, meatless Monday's or Friday night bean burritos! Involve your children in the preparation process. Get creative, have fun, and teach your kids about some of the environmental benefits of plant-based meals.