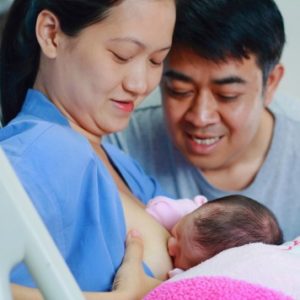 Did you hear about Lactation Consulting through a friend or relative, but you aren't sure exactly what it is or whether you or someone you love could benefit from it? Now you can learn more!
Becoming a parent is an amazing, transitional time in one's life, and it brings many joys and challenges for both parents. For moms, the transition from pregnancy to breastfeeding presents unique demands and opportunities. We asked some experts in the field about their work with expecting and breastfeeding moms. We hope you learn as much as we did!
Since many of us may be unfamiliar with the basics of the lactation consulting process, we spoke with

Ayelet Kaznelson

, IBCLC (Internationally Board Certified Lactation Consultant), RLC, a Manhattan-based Lactation Consultant, about the best time to start seeing a Lactation Consultant and how many times she meets with a typical client. Here's what she had to say:
AK: Ideally, all women who choose to breastfeed will be provided with assistance in the hospital, birthing center or home, depending on where they live. Unfortunately, the reality is that not many are given such assistance, and out of those who are, many report getting conflicting information, leaving them confused and unsure of how to proceed. Therefore, I find that for most women who are dealing with breastfeeding challenges, the best time to see a Lactation Consultant is in the first few days after the baby is born, once they are discharged from the hospital or birthing center or, if birthing at home, sooner. If a woman isn't having challenges but wants to be able to meet with a Lactation Consultant to get reassurance, go over common questions, etc., then it is probably best to be seen by the end of the first week – once colostrum starts transitioning towards more mature milk.
I usually meet with a client once only. I then provide ongoing support through email, texts and phone calls, as needed. In cases where a client needs to be followed-up more closely and in person, I recommend attending my weekly breastfeeding clinic, which is where I provide hands-on support in a group setting. It is a much more affordable way to get continued support, and the women get to speak with other moms who are going through similar challenges. If my clinic isn't in a convenient location, I refer moms to colleagues' groups and stay in touch with the woman until she no longer needs the close follow-ups.
We also asked

Kimberly Durdin

, IBCLC, SMW, of Los Angeles, whether she meets with clients via Skype or other technology and whether she ever does home visits. Here's what she told us:
KD: Yes, I do use technology such as Skype or Facetime to meet with clients as needed. I also do phone consults for situations that may not require my eyes, such as questions and concerns about weaning, night nursing, pumping, working and breastfeeding, the family and the breastfeeding relationship and so much more. At one time, before the internet, and before becoming an IBCLC, while volunteering for La Leche League, most of the consulting I did was over the phone, even for latch issues! Phone help can be invaluable!
However, there are definitely times when an in-person or face-to-face contact is ideal. Most of my business is home visits, which is preferred by many over office visits. In a client's own home, the assessment many times includes showing a client how to get truly comfortable with breastfeeding with their own pillows, chairs, beds, etc. Office visits are limiting because we can only utilize what furniture we have in the office, obviously, and although we try to make it comfortable, it's not the same.
We spoke with

Marcia Rappaport

, MS, RDN, CDN, IBCLC, of Nyack, NY, about the training involved in becoming an International Board Certified Lactation Consultant (IBCLC). Here's what she told us:
Prerequisite higher education in the health sciences
Education specifically about human lactation and breastfeeding (90 hours)
Clinical practice in providing care to breastfeeding families (500 – 1,000 hours)
Pass a comprehensive IBCLE exam (International Board of Lactation Consultant Examiners)
We asked Ms. Kaznelson what she would say to a new mom who is seeking breastfeeding advice but is on the fence about seeing a Lactation Consultant. Here's her response:
AZ: I would recommend reaching out to a Lactation Consultant (LC) and speaking to her on the phone about her concerns. It should give the woman an idea of the LC's approach and how comfortable the woman feels speaking to that LC. It will also help her decide if she needs a visit and, if so, if that LC is someone with whom she would like to work.
If she isn't comfortable with that person, she should call another person on the list. There are quite a few LCs in most areas. With new Facebook mom groups forming daily and other online boards, moms can ask for referrals from other moms and reach out to a few LCs to find the right fit for them.
I also recommend taking a prenatal breastfeeding class. A comprehensive, in-depth prep class during the third trimester of the pregnancy can be quite valuable.
We also spoke with Teresa Peters, IBCLC, ICCE – CD, a Lactation Consultant at Los Angeles'

Huntington Hospital Breastfeeding Center

, about how long breastfeeding should ideally continue:
TP: In an ideal situation, the World Health Organization's recommendation is the best: "Breastfeeding is an unequaled way of providing ideal food for the healthy growth and development of infants; it is also an integral part of the reproductive process with important implications for the health of mothers. Review of evidence has shown that, on a population basis, exclusive breastfeeding for 6 months is the optimal way of feeding infants. Thereafter infants should receive complementary foods with continued breastfeeding up to 2 years of age or beyond." https://www.who.int/nutrition/topics/exclusive_breastfeeding/en
We asked Ms. Peters whether she offers moms nutrition or lifestyle advice for healthy breast milk. Here's what she told us:
TP: Nutrition for mothers while breastfeeding is not supposed to be difficult. Food that is fresh, seasonal, local, and organic is usually the best, whether breastfeeding or not. It is important for moms to remember to get enough calcium, Vitamin D, and folic acid while breastfeeding. General information can be found on this website: WIC Breastfeeding Support.
Finally, we asked Ms. Peters about the best way for moms to find a local Lactation Consultant. Here are her suggestions:
TP: One of the best ways for a mom to find a local Lactation Consultant is to go to the professional International Lactation Consultant Association website, https://www.ilca.org/why-ibclc/falc. The mom is able to find LCs in her neighborhood by entering her zip code into the Find A Lactation Consultant page. Many hospitals offer outpatient lactation help as well. Moms should check with the hospital or birth center where they gave birth. In some cases, a Breastfeeding Support Group meeting is the answer to the mom's needs. The La Leche League and WIC https://ww5.cityofpasadena.net/public-health/child-and-maternal-health/women-infants-and-children continue to be the primary places for information and support.
Learn more about how to prepare for breastfeeding while pregnant.