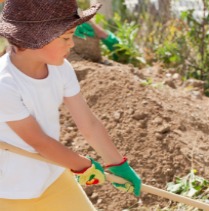 Growing you own food is good for the planet! But it can be intimidating to start a garden if it's your first time or you haven't had success in the past.
Here are a few Simple Gardening Tips to get you started:
Start off small.
Don't overwhelm yourself by starting a garden that is too big to manage. A well-tended little garden will produce more than an untended large garden.
Plan around your climate.
Make sure to pick produce that grows well in your climate and around your home. Talk to experts at your local nursery. Tell them if you want to grow the plants in pots on your deck or in the soil of your backyard. There can be microclimates around your home that will make a difference in how the produce grows. For example, maybe your backyard gets really hot with full sun but the front porch stays cool in the shade – these two microclimates will require different types of plants to thrive.
Plant close to your house!
The closer you can grow to your door, the more likely you will be to pick it and eat it.
Get your soil tested.
This will make sure it is nutrient dense and free of toxins (like lead). Do some research and find out what was in your neighborhood before it was full of homes. Some areas have been known to contain more lead or toxins. This can usually be done at your local nursery or by mail-away kits found online.
Think about spacing.
Make sure you place the plants with enough room between them to properly grow. The spacing is outlined on the outside of the seed packet. When you first plant seedlings sometimes it is hard to imagine how big they can get! But if there is not enough space between them, the plants won't get enough nutrients to grow properly and will crowd each other out.
Don't forget to water!
Sometimes life gets really busy – but in the hot summer months, gardens might require daily watering. Remember that fruits and vegetables are mostly water- so they require a lot of water to grow. Now that you're ready – learn about the benefits of gardening with your kids and which vegetables grow the quickest.