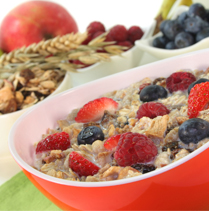 SuperKids Nutrition had the chance to catch up with Rachel Begun, MS, RD, a Registered Dietitian with Celiac Disease, author of The Gluten Free RD blog and enthusiast for all things gluten-free. We had the chance to speak with her during National Celiac Disease Awareness Month about managing a gluten-free diet and incorporating it into a healthy lifestyle. We even got the scoop on some of her favorite gluten-free foods!
As The Gluten Free RD, you provide education and counseling on the gluten-free diet.   What are 3 tips you can give to someone who is thinking about going gluten-free because of digestive or health concerns or is newly diagnosed with a gluten allergy?
Tip #1 – Meet with a Registered Dietitian.  I'm not just saying this because I am a RD. Knowing firsthand how difficult it is to completely avoid gluten, I believe it is important that anyone new to the gluten-free diet meet with a Registered Dietitian. An RD is a great source of information and can teach you everything from how to read labels to how to ask the right questions when eating outside the home. Also, as Celiac Disease does cause damage to the digestive tract, which results in decreased absorption of nutrients, many people with Celiac Disease experience nutrition deficiencies. You really want to make sure you are getting the right counseling to be able to heal the intestinal tract and take care of any nutritional deficiencies that might be present.
Tip #2 – Join a support group. I always tell patients to join a Celiac or Gluten Free support group. The diagnosis can be isolating, especially for people who don't know a lot about food.  A support group is a great way to gain access to people who know what you are going through and it can also help shorten the learning curve time to living a gluten free lifestyle. From learning which gluten-free foods are truly safe to eat, to preventing cross contamination in the home, to how to order foods in a restaurant and which restaurants cater to the gluten free, a support group gives you instant access to people who have been through and have already done the same leg work.
Tip #3 – Learn how to cook. I always recommend that people learn how to cook or at least develop some basic cooking skills. A lot of people think they can continue to eat out all the time like they used to, only to learn that that it is harder to eat safely in restaurants than they realize. I recommend to newly diagnosed Celiacs that they begin their gluten free journey by making the foundation of their diet of foods prepared at home. As they create a comfort level with asking the right questions at restaurants and knowing how to identify what is truly safe to eat, then they can start eating out of the home more often. So, I always stress how important it is to learn how to make your own food.
Is weight gain common when people go on a gluten free diet?  If so, why and how do you help them to manage their weight?
Yes, small weight gain is common when people are first diagnosed with Celiac Disease and start on a gluten-free diet. That is because prior to being diagnosed and going on a gluten-free diet, the intestines are damaged and not absorbing food, which causes weight loss for many. Once on a gluten free diet, a small amount of weight gain is a good sign that the intestines are healing  and absorbing nutrients properly again.
Some people do gain weight beyond what is considered healthy mostly because they are relying on processed gluten-free foods. Some of these products are devoid of nutritional value and are simply empty calories. I always advise people to focus on naturally gluten-free foods. These are the same as those found in any healthy diet – fruits, vegetables, lean meats, low fat dairy, unprocessed gluten-free grains, beans, nuts and seeds. I advise them not to rely solely on gluten-free versions of processed foods, but rather to make naturally gluten-free foods the foundation of their diet.
What's your favorite gluten-free healthy recipe?
I don't have one favorite recipe per se, but I love baking with almond, garbanzo bean or fava bean flours. These are high in fiber, protein and phytonutrients.  They have all opened up my doors to gluten free baking!
What are three foods that can always be found in your refrigerator or pantry?
Almond flour – I cook or bake with it on a weekly basis.
Quinoa – In addition to on its own or as a side dish, quinoa can be used in a variety of ways, including as a breakfast cereal, incorporated into baked goods and desserts, sprinkled into green salads and within sauces and toppings for entrees. It is high in fiber and is a great nutrient-rich grain to add to many recipes.
Lara Bars – They are the perfect portable, on-the-go snack.  I like them because not only are they gluten-free, but they are made with real ingredients.
If there were only one message you could convey about a gluten-free diet, what would it be?
Don't look at the diet as restrictive. If you look at it in a positive way, it opens your eyes to so many new foods. Even for me, a person relatively knowledgeable about food and cooking, my diet includes a wider variety of foods now than prior to being diagnosed and going gluten free. If you approach the diagnosis and gluten free lifestyle in a positive way, you will see that you can discover so many new and wonderful foods you've never tried before.
What's your favorite indulgent treat with a healthy twist?
I make these amazing Walnut Spice cookies with just four ingredients – ground walnuts, egg whites, honey and cinnamon. If I want to be even more decadent I will add in some sweetened shredded coconut or dark chocolate. They are delicious and healthy. They are also the easiest things to make and I can tell you that everyone that tries them wants the recipe!
How can parents talk to restaurants about gluten free when ordering out?
One of the most important things that parents can do is call ahead of time and let the restaurant know someone in your family has gluten intolerance. Make sure that you call at a slow time, I usually suggest between lunch and dinner so that the chef or manager that you talk with can give you his or her undivided attention.  Things will go much more smoothly if you can have a dedicated conversation.  By calling ahead of time, the restaurant can also help to prepare the server on what you can and can't have, which should make the ordering process go more smoothly. I also tell people to check the menu in advance.  By doing so, you are narrowing down the items you want to focus on, which will make the conversation with the chef, server or manager much easier. It is important to realize that gluten free menu items doesn't necessarily equate to eating safely, because cross contamination is common. You still have to ask diligent questions about how the dish is prepared and make sure that dedicated, cleaned and sterilized cookware, utensils and surfaces are used to prepare gluten free items.
Lastly, if the restaurant can't cater to your needs and you have to go to the restaurant, ask about bringing your own food and seeing if they will heat it up and serve it to you utilizing sterilized equipment and plates.
What's the best way for parents to help their kids manage a gluten free diet?
It is really important to teach kids how to advocate for themselves.  Obviously, when they are younger, parents have to make decisions for their children because they ultimately want their kids to be safe. As your kids get older and eat out at restaurants and make food purchases without your supervision, you want to teach them how to make safe food choices, read labels, and ask questions in restaurants to order for themselves. It is important to allow them to make these decisions and actions under you supervision, so when they get older and are out on their own, they will feel comfortable and confident in advocating for themselves.
The one last thing I would say is to be sure to take advantage of the resources and advocacy groups out there.  There are so many great gluten-free magazines, cookbooks, recipes and support groups available these days including my blog, The Gluten Free RD. Anyone who is gluten-free should take the time to take advantage of all that is available to them.
Rachel Begun, MS, RD, CDN is a registered dietitian and accomplished food and health marketing and communications expert and spokesperson.  She provides food and nutrition marketing, communications, education and spokesperson expertise to food companies, retailers and foodservice/hospitality providers, as well as to schools, camps and health organizations. Rachel also educates the public via speaking opportunities, webinars and writing for publications, including her own blog, The Gluten Free RD.
As a registered dietitian with Celiac Disease, she specializes in providing gluten-free/allergy-friendly education and counsel to those afflicted, gluten-free/allergy-friendly food companies and celiac education and resource organizations.  Rachel graduated Phi Beta Kappa from Emory University in Atlanta, GA with a B.A. in Biology and a concentration in pre-medical studies. She earned her M.S. degree in Nutrition Education from Teachers College, Columbia University and completed her internship for registered dietitian certification there as well.
You can view all of our expert interviews Here.