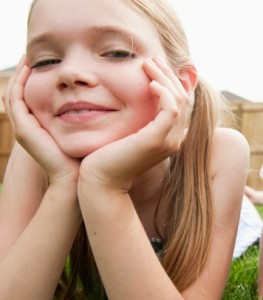 SuperKids Nutrition had the opportunity to chat with nutrition expert Sarah Koszyk, MA, RD.  Sarah is a pediatric specialist and creator of "A Family's Colorful Weight Management Program" at MV Nutrition in San Francisco, California.  The program emphasizes a sustainable lifestyle approach rather than a diet towards healthy living.  Read below for Sarah's tips on how to get kids to eat more fruits and vegetables, how to fit healthy eating in a busy schedule and why it is so important to get the entire family involved.
Parents who are overweight often have overweight children, how do you help make eating right a family affair in an effort to pass down healthy habits from generation to generation?
Many children who are referred to me for overweight/obesity, have parents who are also struggling with their own weight and eating patterns. First of all, I work with the entire family to learn and develop healthy habits in their eating behaviors. I usually start off by learning about the child's eating patterns, and then I learn about the adult's eating patterns. Once I identify where the struggles exist for both, we then work together to adjust the habits that are inhibiting them from reaching their goals. I also remind parents just how much of a role model they are to their kids. Parents love to be reminded that they are important and it encourages them to make simple changes to assist their children. By focusing on the basics, such as eating breakfast, having healthy snacks available, and consistent meal times and frequency, everyone can enjoy the experience of eating while learning core principles for optimal health.
Why is it so important that the entire family get involved in eating healthfully together?
Families are a team, and relationships are meant to be supportive units: people helping one another out. This idea of relationships and teamwork is between adults, between children and adults, as well as between siblings. By working together and helping each other out, it keeps the concept of family alive. The more involved both parents and kids are in the food arena, the more ease and acceptance the family will have when it comes time to eat. When children participate in any aspect of meal preparation, like washing produce, tossing a salad, chopping vegetables (if age appropriate), or even mixing a dressing, they get excited and are more likely to eat their creation or at least try it, which can encourage a happier, more well-balanced, veggie-filled meal. Also, the family is working together which brings unity and quality time spent together.
What would you advise a family to do with a child who won't eat their fruits and vegetables?
I was teaching students Nutrition at an elementary school in Berkeley, CA, where the students had access to a garden, as well as weekly gardening classes. I attended one of those gardening classes and the students were making "wee-tos." The students were wrapping arugula and frisee (a type of bitter lettuce) into a romaine lettuce leaf just like a burrito. What looked like a weed to me, the students were excitedly eating their "wee-tos." This is a true example of how children, who get more involved, will try more food items. Even the green "Weeds!"
I recommend taking a child to a local farmers market where the children can walk around and even try the produce. Many farmers are elated to have a child try their product. When the child has the choice to pick up, touch, smell, and taste something, the child most likely will try a little. Also, take the child to the grocery store and while walking around the produce department, have them pick out 1 or 2 of their favorite fruits and vegetables. This way you give them a choice, the child is empowered, and you can prepare that fruit and vegetable with a little less fuss.
What kind of fitness activities do you encourage for your clients and practice yourself? How can busy moms and families fit fitness into a hectic schedule?
If only we had more time in the day! Hectic schedules do add up! I enjoy taking walks with my loved ones whether it is after dinner (weather and sun permitting), in a park, or just around the neighborhood. Walking can be a great, simple way to get some more activity in and it can also be a nice time to talk and share with one another. For busy families with hectic schedules, actually scheduling that walk into the calendar can prioritize it and make it happen: treat that fitness activity just like it's an appointment! Prioritize it! If the weather is poor, people can now play in the house with Wii or other activities that both parents and kids can do together.
What's the best advice that you can give to parents to encourage healthy eating habits for life?
For the parents: Start the day off right with a high fiber, high protein breakfast such as ¾ cup Nature's Path cereal + ¾ cup blueberries + 2 Tbsp of ground flaxseed + 1 cup Fage Greek Yogurt (great source of protein). Make sure to have a protein/carbohydrate snack after school or mid-work day around 3-4 pm (for both parents and kids) to keep your energy up and running, such as 1 fruit + 1 light string cheese. Practice what you preach to your kids. By eating consistently throughout the day, you will stay fueled and energized. Then, through nutrition coaching, you can reduce your portion sizes at lunch and dinner to make your meals more even and consistent throughout the day.
Many people complain that they don't have time to prepare healthy meals.  What are 3 tips you can provide for fitting cooking into a busy schedule?
Plan your snacks for everyone at the beginning of the week on a Sunday (or Monday if out of town on the weekend). Put everyone's snacks into individual containers for the entire week so that each morning, you just grab it and quickly divvy up the snacks. Now everyone has energy to stay fueled throughout the day. This is great time management, too, because you spend about 20 minutes once preparing the snacks and then you are done for the rest of the week.
On busy days where one knows the day will end in pure exhaustion, have a simple go-to dinner on hand. For example, boil pasta, open a jar of pasta sauce, throw in some pre-made frozen turkey meatballs, and steam some broccoli. You now have a complete meal that is easy to prepare in 10 minutes OR use another quick, go-to dinner that you know how to prepare without thinking about it such as a stir-fry with frozen veggies, chicken and easy-to-make brown rice that can be made in about 3 minutes. Add some soy sauce and boom, you have your quick meal. When it comes down to it, having a plan can help with healthy meal preparation even when there is NO time. So plan, plan, plan in advance to have your go-to meal available. What's your simple dish that you love to prepare?
Make 1 big dish a week to have leftovers with. This dish can either be a stew or casserole or crockpot recipe. I also enjoy making healthy versions of enchiladas or lasagnas. By cooking on a day that's easier such as a Sunday, you can have leftovers for dinner on a Tuesday or Wednesday.
What is your secret for managing your weight and staying in shape?
My secret: Prioritizing myself and my family's health. I grocery shop weekly (often times twice a week). I pre-plan what we're going to eat Monday through Wednesday so that I have an idea of what to make for dinner. Thursday is usually our leftover night. I also prep everyone's lunches the night before so that in the morning, I just have to grab and go for all. By making most of our meals from home, I save money and I'm able to keep my portions in my control, which is helpful to my waistline. I also schedule my workouts as appointments in my calendar so that they happen and I get the "job" done.
What is your favorite go-to healthy meal?
My favorite go-to healthy meal is Burrito Bonanza. We grab a high fiber, low carb tortilla, put some Jarlsberg lite cheese in there with some grilled onions, green peppers, jalapenos, and chicken breast (I put in spices such as cumin, chili powder, garlic powder, cayenne, and red chili peppers when I grill the onions, peppers, and chicken), add some salsa, canned black beans, and chopped romaine lettuce and roll it up! It's fun, fast, and each person can make his/her own burrito to his particular liking. You've got vegetables, carbohydrates, and protein all in one! Bon appétit!
As a dedicated, spirited, and compassionate registered dietitian, Sarah Koszyk, focuses on empowering people to make positive lifestyle changes. Her expertise in nutrition and food science, behavior modification, motivational interviewing, and cognitive therapy virtually assures her client's success. Sarah originally became part of the MV Nutrition Team in 2005 and has since excelled in achieving healthy benefits for all of her clients.
Sarah designed A Family's Colorful Weight Management Program at MV Nutrition, which emphasizes a sustainable lifestyle approach rather than a diet towards healthy living.  A Family's Colorful Weight Management Program is broken down for all age groups with educational materials for both parents and kids. The program is taught in either a group setting or an individual one-on-one setting, and is provided in either Spanish or English. Age-appropriate tools have been developed to maximize learning and interaction at every level.  Whether the visits are group or individual, we stress the importance of teaching our children proper portion sizes, including a variety of colors in all meals and snacks, learning heart-healthy ingredients, and modifying our behaviors as the keys to success.