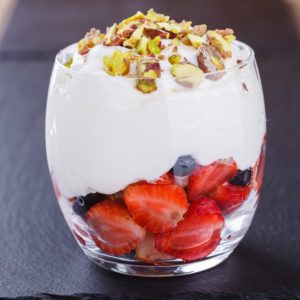 Curious what a healthy meal plan for a 3-year-old should look like? Try this day of balanced meals and snacks, full of fresh flavors and healthy noshes.
I'm often asked by well-meaning friends that invite us over to dinner, "What do your kids eat?". A better question might be "what do they not?"! As a nutrition expert, one of my core beliefs is that kids can and should be able to eat a wide variety of foods that aren't found on the typical kid's menu. One of my favorite food-related parenting memories is when my 3-year-old asked for (and ate!) a whole branzino fish.
Contrary to popular practice, most children actually appreciate a wide variety of flavors and seasonings! And, introducing new tastes now will expand their palate when they're adults. This healthy meal plan for a 3-year-old will get you started on the right foot.
This post contains an affiliate link. As an Amazon Associate, we earn from qualifying purchases. The link is noted with an asterisk (*).
Tips for Introducing New Foods
Admittedly, not EVERY meal is smooth sailing. There are times at my house when the vegetables require a little extra effort on my part. If this is you, too, you're not alone. Did you know that according to the CDC, 90% of children do not get the MyPlate recommended amount of vegetables? (1) However, most resistance around fruits and vegetables can be eased by experimenting with different textures and shapes. Here are some of the tricks that work at my house:
Pair vegetables with favorites – think hummus, eggs, avocado, and pizza with whole-wheat crust (this is in the sample menu below!)
Try mixing up the texture/size/shape – get out the cookie cutters for apples, melons, or other fruits or veggies
Add a dip – my kids LOVE hummus!
Try something unique and have fun with food names – my son thinks the word "jicama" is HILARIOUS, so much so that he's happy to munch it down
With a little strategy, you can easily work in the recommended amount of fruits and vegetables into your child's plate!
Breakfast: Froggy Frittata
Try adding zucchini and pesto to the eggs for a natural green tint with healthy fats and vegetables! We like using cast iron skillets* for even heat distribution and a boost in iron.
Ingredients:
Directions:
Heat a non-stick skillet on medium heat and lightly coat with oil.
Crack an egg into a bowl and whisk with pesto, cheese, and zucchini.
Pour egg mixture into skillet.
While the egg is cooking, toast the bread.
Mash avocado with fork and spread on top of toast.
Once the egg mixture is cooked, pair with avocado toast or put on top and serve!
(1 protein, 1/4 vegetable, 2 oil equivalents, 1 grain)
Looking for more tasty breakfast ideas? Check out SuperKids Nutrition shop page and their new book, The Super Crew's Breakfast Cookbook for Kids, 50 Tasty Recipes +100 Fun Nutrition Activities.
Lunch: Very Berry Parfait
A healthy meal plan for a 3-year-old can be quick and simple. Parfaits are full of flavor and color, and are very versatile! Check out Melissa's new breakfast cookbook featuring the Super Crew for more parfait fun.
Ingredients:
4 oz. nonfat or low-fat Greek yogurt
4 strawberries or other berries
8 shelled pistachios
Directions:
Spoon ¼ of yogurt (1 oz.) into a glass.
Thinly slice berries and layer one strawberry on top of yogurt.
Repeat until all berries and yogurt have been used.
Top with pistachios and enjoy!
(½ dairy, ½ fruit, 1 oil equivalent)

Snack:
Crunchy Critters

A few toothpicks and a little imagination can change these vegetables into caterpillars!
Ingredients:
2 Tbsp. hummus
½ cup jicama, sliced into strips
12 small cherry tomatoes
12 toothpicks
Directions:
Slice jicama into 6 large strips.
Put a cherry tomato at the end of each toothpick.
Place two tomato toothpicks side by side on one end of a piece of jicama so that to form the "antennae".
Now you have 6 caterpillars!
(1.5 vegetable, ½ protein)
Dinner: Easy Homemade "Pizza" + Turkey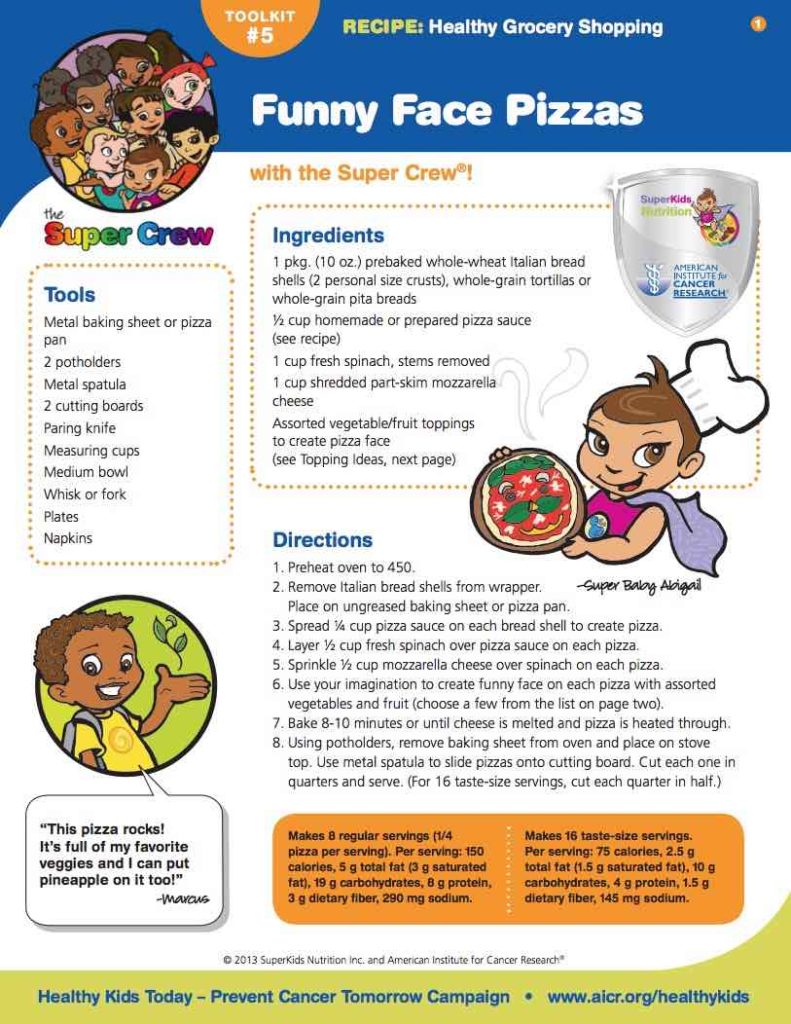 Ingredients:
1 whole-grain English muffin
1/8 – ¼ cup shredded mozzarella
¼ cup tomato sauce
½ cup nonfat or low-fat milk
1 medium peach (cut into fun shapes)
1-2 slices of roasted turkey breast or chicken
Directions:
Toast English muffin.
Preheat toaster to 350°F.
Top each half of English muffin with half tomato sauce and half shredded cheese.
Place in the toaster for 5 minutes.
Pair with milk and turkey and enjoy!
(2 grains, 1.5 dairy, 1 fruit, 1/4 vegetable, 1-2 proteins)
See our funny face pizza for tasty inspiration!
Daily Totals for a Healthy Meal Plan for a 3-Year-Old
3 oz. grains
2 dairy servings
1.5 fruit servings
2 vegetable servings
2.5-3.5 oz. protein
3 tsp. oil equivalents

The menu above contains some of our favorites. I hope it's one that works in your household, too! See how it compares to the MyPlate recommendations.