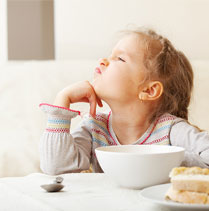 Are you raising a genius of food refusal or could your toddler be overwhelmed by your expectations? Take a step back and review these 5 rights of food parenting.
Since the advent of Gutenberg's printing press, a lot of books have been published on "parenting". We all have heard many old wives' tales, and received enough solicited and unsolicited advice from well-intended strangers, family members and friends on how to feed our kids. All of this guidance may not help much with your child, if he or she always comes up with new excuses to refuse food!
1) The right portion size
Toddlers need small portion sizes. Remember that most children eat less as toddlers than they did as infants. To get general guideline on daily servings for infants and toddlers, check out this article: How much should my toddler eat? and a Sample day of meals for a 2 year old. Also, the article, Challenging eaters, offers guidelines on child-size portions ages 1-3. (For example, most 2-3 year-olds need in a day: 2 cups of milk, 1 cup of fruit, 1 cup of vegetables, 2 oz. of protein foods, 3 cups of grains).
2) The right balance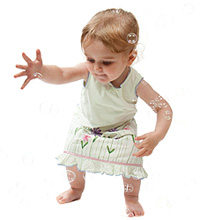 When planning your menu, balance all the food groups. Provide: half a cup vegetables, 1 oz. protein (beans, fish, poultry, meat), 1 oz whole-grains (whole-wheat dinner roll, whole-grain pasta, quinoa, brown rice) or sweet potato, to which you can add one fruit and half cup (4 oz) of milk. For young toddlers minimize multitude, minimize variety within a meal. Instead, you can offer a variety over the course of a week. As an adult, you can handle having a dozen colors presented in one meal. But for a young toddler, it can be overwhelming. Two bright colors (orange and green) are sufficient to stand out against the rest of the "beige" foods (example: chicken noodle soup with chunks of carrots and green beans). As your toddler gets older, he will be able to enjoy more colors in one plate. The article, Sample daily menu for a 1 year old child offers help with menu planning for the youngest solid-food eater.
3) The right cooking method
For novice eaters who have not yet mastered chewing and swallowing, the texture of hard raw veggies can pose a problem. Offer soft chunks of veggies (either veggies that are naturally soft, such as tomatoes, or cooked veggies those who are hard in their raw form, such as cooked carrots). Steam, boil, or sauté the veggies. Sautéing in olive oil, for example, not only provides much-needed healthy fat, but also enhances the absorption of the fat-soluble vitamins contained in the veggies. Avoid deep-frying batter-laden veggies, as it adds a lot of unhealthy fat and will ruin the natural taste of the food.
4) The right texture
Some children are texture-sensitive. Insisting that your child keep trying to eat the texture which he or she has repulsion towards will not increase the food's acceptability, but it will lead to food fights. Try, instead, presenting that same nutritious food in a different form. For example, try soft-boiled chunks of fruits and veggies, if pureed are not well-received. Or, try chunky soups, if creamy ones are rejected. Pin-point the texture that your child finds repulsive and offer alternatives to it. Make the mashed avocado chunkier, if perfectly smooth one is rejected; or add chunks of tomatoes in it, to give it a different texture. Usually textures that are crunchy, dehydrated, or sticky are difficult to chew and swallow for a toddler. These pose not only a choking hazard, but some of them also can contribute to tooth decay.
5) The right temperature
Toddlers, more than adults, are temperature-sensitive. Your toddler may say "All done!" after the first bite of food, not because he or she is not hungry, but because the food is too hot. You may misinterpret it as a refusal of that particular food. If it happens to be a veggie, you may even talk to your friend about how your child "dislikes" that particular veggie. What if the child is present and hears you? You just reinforced their dislike of veggies, if there was one, or maybe you created it! Could it be that some food problems are not food-related, but involve complex behavioral issues?
Key Points to Remember: 5 Rights of Food-Parenting
The right portion size
The right balance
The right cooking method
The right texture
The right temperature
Test Your Knowledge: True or False:
A child eats more at toddler age than he/she did as an infant.
Toddlers that are texture-sensitive should be desensitized by exclusively offering them the texture they have an aversion for.
Toddlers' chewing and swallowing ability allows them to be highly proficient at eating raw veggies.
Answers: All are False.