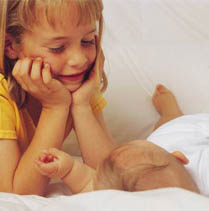 Sometimes feeding the little ones can be a difficult task. We've got four delicious recipes tested on even the pickiest of eaters. 
Black Beans, Brown Rice and Ricotta
To prepare the black beans:
2 cans organic or regular low sodium black beans, drained and rinsed under cold water
1 medium onion, chopped
2-4 cloves of garlic, chopped
2 or more plum tomatoes, chopped
1 Tbsp olive oil
Black pepper
Red Chile Pepper, to taste (don't add this to the beans if you are going to serve
to children)
Mix in some whole milk ricotta before serving for your child
Sauté garlic for 2-3 minutes in the olive oil. Add the onions and sauté with the garlic for another 3-5 minutes, until the onions appear translucent. Add the tomatoes and continue to sauté for 2-3 minutes. Add the rinsed black beans and 2 cans of water to the pot. Bring water to a boil then lower heat and simmer for approximately 2 hours, or until beans are just a little soupy. Serve with brown rice. For little baby fingers, clump together by draining slightly and mixing ricotta cheese with the beans and rice.
Toasted Tomato Cheese Sandwiches
Whole wheat bread
Mozzarella or Swiss cheese
1 small tomato, sliced
Easy to prepare in the toaster oven or a pan with oil; for babies in need of extra calories brown in the pan with olive oil. Simply assemble the ingredients and toast until cheese and bread are done.
Cut into small squares for a child to eat. Show your toddler or baby how to blow on the sandwich to cool it down, they will enjoy learning a new activity at mealtime!
Spaghetti with Turkey Meatballs
Whole wheat spaghetti, cooked
1 lb lean (white meat) turkey, ground
1 lb dark meat turkey, ground
1 medium onion, chopped
2 garlic cloves, minced
1 Tbsp light soy sauce
1 Tbsp Worchester sauce
1 egg
1/2 cup bread crumbs
Prepared marinara sauce or homemade if you have a favorite recipe!
To prepare the meatballs, mix in a large bowl the ground turkey, onion, garlic, soy sauce, Worchester sauce, egg and breadcrumbs. Form small to medium balls and place on roasting pan. Roast in oven at 350 degrees until meatballs begin to brown. Add meatballs to marinara sauce and cook on stovetop for 30 minutes on medium/low heat. Serve over whole wheat pasta. *If you're planning to freeze the meatballs roast until done in the oven. Make sure to freeze some meatballs individually with a little sauce for a quick meal for baby later. Wrap tight in plastic wrap or sandwich bag to prevent freezer burn. Try adding ricotta cheese to marinara before serving.
Vegetable Fried Rice
1 cup brown rice (cooked equals about 3 cups)
1 cup mixed frozen vegetables (usually corn, peas, beans, red peppers)
1 Tbsp olive or canola oil
2 eggs, scrambled
Dash of fresh or dried basil or parsley, to taste
Cook rice. Saute vegetables in olive oil to desired consistency. Scramble eggs. Mix all the cooked ingredients together and serve.
Add ricotta cheese to the fried rice to help it stick together better for finger food consistency.
Updated 1/2017