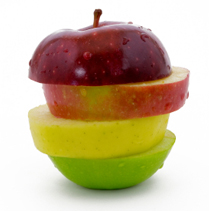 You've heard it many times, "to get your kids to eat more healthy fruits and vegetables
you gotta keep carrot sticks in the fridge and fresh fruit on the counter". So has their intake improved? Are your kids eating more fruits and veggie servings per day? Sadly, consumption has increased only slightly. Research and new recommendations indicate that nine or ten servings of fruits and vegetables a day is best for good health. However, studies show that most kids do not reach half of this goal.
What's needed is a fresh approach! There are hundreds of exciting and tasty produce items that can be included into daily meals. Hearts of palm, jicama, tomatillos, rapini and loquats are just a few of the delicious and nutritious fruits and veggies that kids will love given the chance. Next time you go to your local farmer's market or produce section at any major grocery store look for unique selections to add interest and fun to everyone's diet!
"Fresh" Fruits
Loquats look like tear shaped apricots and they taste like a blend of apricots, bananas and grapes. They are an excellent source of vitamin A and potassium and can take a typical fruit salad from boring to festive!
Persimmons are Japan's national fruit and truly a treasure. The Fuyu variety is delicious in salads or eaten right out of hand. They are an excellent source of fiber, vitamins A and C and manganese.
Asian pears are crisp, light and refreshing. Once you bite into the crunchy white flesh you will be hooked! Full of vitamin C and fiber, Asian pears are perfect sliced up as a snack or added to coleslaw for added crunch. Try this delicious recipe for breakfast or a light dessert.
ASIAN PEAR FRUIT SALAD
2 Asian pears cut into cubes
1 ripe banana, sliced
1 orange, peeled and cubed
10 red grapes cut in half
1/2 cup vanilla low fat yogurt
In a medium bowl mix all ingredients. Serve immediately. Yield: 4 servings
Vegetable Variations
Rapini, also known as rabe, or broccoli rabe, has a stronger flavor than broccoli but is subtle enough to add character to any stir fry. Kids love the "little tree" look and they can eat steamed rapini right out of their hands. Most children think anything green is yucky but tomatillos will change their view. These light green veggies which are not in the tomato family taste like a tart kiwi fruit. Try adding vitamin C rich tomatillos to your favorite salsa or soup.
Sugar snap peas are the new ranch dip favorite. They are completely edible from pod to pea and have a delicate sweet taste that little ones will crave. Sugar snap peas are an excellent source of vitamin C and a significant source of iron.
Think outside the box when making your produce list. Try new fruits and vegetables every week to keep kids interested and healthy! Make tasting new fruits and vegetables a fantastic adventure to create fun childhood memories they will savor as much as the taste of these foods!