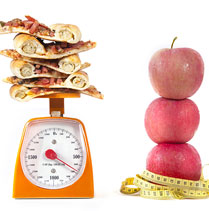 When feeding your family remember it's the parent's job to determine the right portion size to give to his or her child. It's the child's job to determine how much of that serving to eat.
When dining out and anxiously waiting for your meal to come, it's hard not to notice the sizes of the entrees passing by. A single individual receives one entree which contains enough pasta to feed a family of four. How is it possible for a family to eat less when we are served more and more? First, make a healthy entree choice and second exercise your portion power.
Research has shown that preschool-aged children will eat more when large portions of highly palatable and tempting foods are offered. When eating out parents instinctively turn to the children's menu which offers traditional high fat and high salt foods, like fries, burgers, chicken nuggets and chips. Instead, consider having your child split a healthy meal from the standard menu or request a half entree.
What's the difference between a portion and a serving?
A portion is defined as how much food an individual chooses to eat in one sitting, whereas a serving is defined as a standard amount set by the government. Are you curious to see how portion sizes have grown in the past 20 years? Take an interactive quiz from NIH.
How can you exercise your portion power?
Keep this simple technique in mind whenever you are putting food on a plate for you or your preschool or older age child. Half of your plate should be filled with vegetables and/or fruits. Your portion of meat shouldn't take up more than a quarter of the plate. The remaining quarter should contain whole grains (whole wheat pasta, wild rice), beans or starchy vegetables (corn, sweet potatoes, peas).
When you are eating away from home, try these simple tips:
Preview the standard menu first before automatically turning to the kids menu. Perhaps there is a healthy appetizer that would make a great meal for your child.
Order an appetizer as an entree for yourself or split your entree with another family member.
Take half of your meal home in a box for lunch the next day for you or a family member. That's one less meal you have to prepare.
Skip the soda and ask for sparkling water with lemon instead. To add a smile to your child's face ask for a little decorative umbrella for the glass.
Instead of pouring dressing over your salad, ask for the dressing on the side then lightly dip your fork into it before taking bites of your salad. Or try balsamic vinegar a lighter but tasty choice.
Just remember, every time you eat you are making choices that not only impact your health but also influence your child's health. Choose to make your meals matter for you and your family.
*For age specific serving sizes for infants go to Introduction to Solids; for Toddlers go to How Much Should My Toddler Eat and a Sample Menu For a One Year Old.