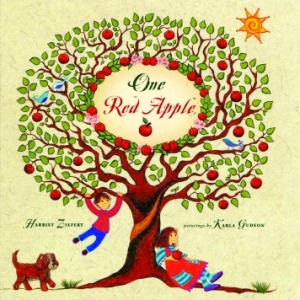 Story by Harriet Ziefert
Ziefert pens a charming account of the life of an apple through the eyes of children in this almost good-enough-to-eat book. The story begins at an apple orchard, where the shiny red apple is picked and transported to the local market. From there, the crisp fruit is bought at a farm stand and enjoyed by a child, who leaves the core outdoors for the birds. After feasting, the winged creatures take flight, scattering the apple's seeds, which fall to the ground and eventually take root. The children see the small shoots poking out of the ground, which grow into large trees laden with pink and white blossoms that turn into tiny apples. The small fruit grows larger and larger until they become the yummy red apples that began the journey from the orchard, and the children thank all of the elements that made their apples grow into the fruit they love to eat.
This story is great for parents and children because not only is it based on the healthy and tasty treat of the red apple, but it explains the life cycle of fruit as well, which is perfect for youngsters who like to know how things come to be. Karla Gudeon, the illustrator, does a fantastic job of making the apple come alive throughout the pages of this nutritious, delicious read.
After Reading this Book to Your Child:
Visit a local apple orchard and pick your own apples in the fall, or go in the spring and see the beautiful blossoms as the trees bud.
Cut your apple in half horizontally and show your child the star shape the seeds make.
If you have a big enough yard, let your child plant their very own apple seeds!
Compare all the variety of apples found at the grocery or farmers market- look at the colors, taste the different types, and explain the different cooking purposes. If you're really adventurous, buy a few different varieties and make your own treats- applesauce, apple butter, apple pie, apple turnovers or an apple-fruit salsa for salads…the options are endless!