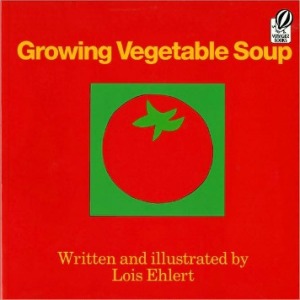 by Lois Ehlert
Having trouble getting your child to eat veggies? Then this is the book for you. "Growing Vegetable Soup" is a child's impressive first lesson in gardening, vegetable varieties, harvesting, cooking preparation, following a recipe, and nourishment.
Lois Ehlert's elementary, labeled paintings in wildly vivid colors add to the magic. Her straight-forward directions make it all seem very easy. Your child will want to read it again and again to watch the garden grow before their eyes. Of course a recipe for vegetable soup is included at the end.
"Growing Vegetable Soup" will nourish your child's artistic eye, mind and body. See if you can stir interest in gardening or cooking activities. For those of you accustomed to standard units, please note the following metric equivalents for use with the recipe.
25 mm = 1 inch
150 mm = 6 inches
1 1/2 Liters = 6 1/2 cups
Growing Vegetable Soup by Lois Ehlert. New York: Scholastic Press, 1987.