The Greek Yogurt Kitchen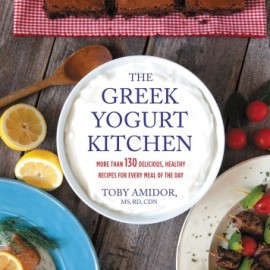 Greek yogurt emerged on the culinary scene a few years ago and is now a staple in many American kitchens. Creamier than plain yogurt, yet lower in fat than sour cream, it is easy to see why Greek yogurt is so beloved.
Registered dietitian nutritionist Toby Amidor's new book, The Greek Yogurt Kitchen is chock full of delicious and nutritious recipes that feature Greek yogurt in new and inventive ways. Toby offers tips for using Greek yogurt in both savory and sweet meals, at every hour of the day. We recently checked in with Toby to talk about her new book and learn more about the nutritional and health benefits of Greek yogurt. We hope you are inspired to pick up the book and try one of her wonderful recipes!
In the book, you mention that Greek yogurt makes a great swap for high fat ingredients like mayonnaise or sour cream. What is your favorite way to use Greek yogurt in the kitchen?
I don't think I can pinpoint one specific way that I love using Greek yogurt in the kitchen—there are just too many ways! A few of my favorites include swapping half the butter for nonfat plain yogurt in baked goods like cookies, cakes and muffins. I also love using Greek yogurt to replace half of the mayonnaise in my tuna and egg salads.
Many of our readers are moms- can you explain why Greek yogurt may be a better choice for their family than other flavored or plain yogurts?
Plain yogurt is definitely a nutritious choice and can help meet your daily calcium needs, but I prefer going Greek! Greek yogurt has a rich, creamy texture and mouth feel that I have come to adore. It also has 38% less sodium, 40% less sugar and twice the amount of protein over traditional yogurt. When it comes to flavored yogurts, you need to read the nutrition facts panel on both Greek and traditional yogurt. Once you have over 20 grams of sugar in a single serve container, it is more of a dessert!
Can individuals with lactose intolerance still enjoy Greek yogurt?
Absolutely! Because Greek yogurt contains only 4 grams of lactose per 6 ounces compared with 12 grams of lactose per cup of nonfat milk, it is considered a lactose-intolerant friendly food. If you have been diagnosed with lactose intolerance, then it is recommended to keep milk and dairy food in your diet in order to get the 9 essential nutrients dairy foods offer. The trick is to start slowly with lower lactose foods (like Greek yogurt) and combine dairy with other foods to help slow down digestion. For example, top a cup of lentil soup with a dollop of Greek yogurt or use Greek yogurt in a fruit smoothie.
Your daughter helped you taste test recipes while developing the book- what do you think are some of the most kid-friendly ways to use Greek yogurt?
My daughter has some favorites in my book. She loves the Lemon-Blueberry Stuffed French Toast, Berry Greek Smoothie, Light and Dark Chocolate Brownies, and Mango Guacamole. My trick is to make fun, simple and delicious recipes, that are still healthy. That way my kids are happy and as a mom and nutritionist, I am happy too! It's a win-win for all!
What is the one kitchen tool or gadget you can't live without?
I love my measuring cups. My kids like the recipes to come out the exact way each time. In the past, they have refused to eat food that wasn't as they remembered. Instead of guestimating, I always measure out my ingredients so the dishes come out with the same flavor and consistency. Also, I love my measuring cups because I am able to maintain the calories (and other nutrition) that are in that recipe. So I know when I say the serving has 150 calories, it actually does.
Can you share with us one of your favorite recipes from the book, Greek Yogurt Kitchen?
Sure! Here is one of my favorites. I hope you enjoy it.
Lemon-Blueberry Stuffed French Toast
SERVES 4
Ingredients:
Cooking spray
1 cup nonfat milk
4 large eggs
1 tablespoon vanilla extract
½ teaspoon ground cinnamon
½ loaf challah bread, preferably whole wheat
1 ¼ cups fresh or frozen blueberries (thawed if frozen)
¼ cup nonfat lemon Greek yogurt
1 tablespoon confectioners' sugar
Directions:
Coat a large skillet with cooking spray. Heat it on the stove over medium-low heat.
In a medium bowl, whisk together the milk, eggs, vanilla extract, and cinnamon. Cut the challah into eight ½-inch-thick slices. Submerge half the slices in the egg mixture, being sure to moisten both sides. Then place soaked slices on the heated skillet and cook until golden brown, about 7 minutes. Flip and cook on the other side until browned, about 5 minutes. Remove from the skillet and keep warm. Spray skillet with cooking spray and repeat with the remaining challah slices.
To make the filling, mash the blueberries and lemon yogurt together in a small bowl.
To assemble each stuffed French toast, place 1 piece of French toast on a plate. Spread ¼ cup of the lemon-blueberry mixture over the bread. Top with another piece of French toast, and slice in half. Just before serving, sprinkle the confectioners' sugar evenly over the stuffed French toast.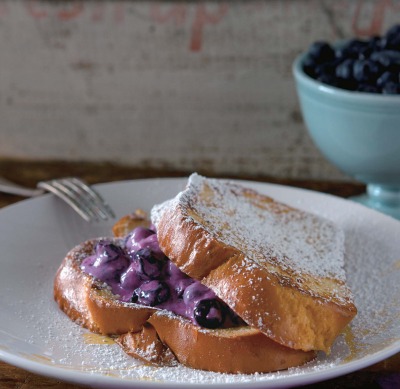 SERVING SIZE: 1 stuffed French toast
NUTRITION INFORMATION (PER SERVING):
Calories: 379; Total Fat: 9 grams; Saturated Fat: 3 grams; Protein: 19 grams; Total Carbohydrates: 53 grams; Sugars: 19 grams; Fiber: 6 grams; Cholesterol: 232 milligrams; Sodium: 438 milligrams
Click here for even more great ways to use yogurt, and check out this unusual recipe combining yogurt and celery seed!
---