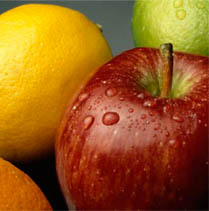 All types of fruits and vegetable are good for your health!
When it comes to fresh produce, no matter what type you buy, conventional, organic, or locally grown, fruits and vegetables are vital to your health. Hundreds of studies have confirmed that the intake of produce can reduce the risk of chronic diseases and improve the quality of life.
With that said, try to purchase as much seasonal, locally grown produce as you can. However, depending on where you live, not everyone has access to an abundance of seasonal and fresh food items. For greater variety and flavor, you can supplement locally-grown fruits and vegetables with store-bought organic (or conventional) produce.
Organic produce tends to be more expensive than conventional produce and are not as easy to find. If money or availability is an issue, limit your organic produce purchases to what some experts claim to be the 12 fruits and vegetables with the greatest amount of pesticide residue. Then, stick with conventionally grown produce for the other varieties of fresh fruits and vegetables.
For more information check out What To Choose When Buying Organic and Protecting Yourself from Pesticides.