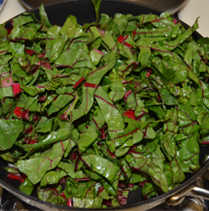 Ever wonder why vegetarians prefer not to eat meat or how many people call
themselves vegetarians? Three percent of the US adult population prefer a meatless lifestyle, which translates to roughly 7 million people! These individuals have chosen to "go meatless" for a variety of reasons, including but not limited to, their culture, food availability, the region where they live, their age, health concerns, and dietary preference. Given the magnitude of this number, many restaurants, schools, and parents are exploring the available veggie options and considering adding them to their existing repertoire of food choices. However, it can be a challenge to know what constitutes a healthy entree, even in the most simple of swaps- like that of a veggie burger for a hamburger. Health experts recommend that Americans "go meatless" a few times a week to improve overall health. For example, veggie burgers served up with lettuce, tomato, avocado and a side of sweet potato fries are a delicious and nutritious alternative to the typical beef burger and steak fries. Need convincing?
Nutritional Breakdown of an Average Beef Burger:
50% (or more) of its calories are from fat

On average, 10g of total fat and 3.5 grams saturated fat/serving

Contains no dietary fiber
On average, 60-90 mg of cholesterol/serving, depending on the size of the patty and the type of meat used
Excellent source of protein

On average, there is twice as much protein in a meat patty as there is in a veggie burger

An unseasoned patty typically contains 20% of the sodium content of their veggie counterparts
Nutritional Breakdown of an Average Veggie Patty:
Lower in calories and fat than a traditional meat patty

Less than 20% of calories from fat
On average, 3 grams total fat and 0.5 grams saturated fat/serving

Good source of dietary fiber with 3-4 grams/serving
Little or no cholesterol per veggie burger
Moderate source of sodium (15% Daily Value)

On average, 250-500 mg/serving

Though they contain less than their meaty alter egos, veggie burgers are still an excellent source of protein (22% Daily Value)

On average, 5-15 grams of protein/serving

Veggie burgers made mostly of soy protein and wheat gluten have >10 grams/protein
Veggie burgers made mostly of vegetables and whole grains have <10 grams/protein
Other Considerations
The vegetarian equivalent of the traditional burger rarely causes the types of foodborne illness that can be found in meat burgers, such as Salmonella and E. coli.
People with food allergies need to be diligent label readers when purchasing veggie burgers. Most varieties include one or a combination of the following ingredients that have been known to trigger an allergic reaction: soy, wheat, eggs, dairy, or nuts. There are also vegan options available which may minimize this risk.
Preparation styles of the veggie patties may also differ, as most packages include directions on how to prepare and serve the product for maximum flavor and enjoyment.
Make your own veggie burger! Combine black beans, brown rice, lettuce, tomato, herbs, barbeque sauce and red beets. Add a little cayenne pepper and serve on a toasted whole wheat bun!