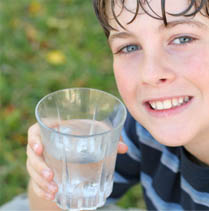 Teens, by nature, are very social. They thrive on "hanging out" with their friends at restaurants, juice bars, and coffee and teahouses – all of which revolve around high-calorie foods and beverages.
How can teens refrain from ordering these healthful diet saboteurs when everyone else is enjoying them? Peer pressure can be difficult to avoid, but when you learn the tricks of ordering you can be part of the group without feeling left out or different.
Calories from beverages are called "discretionary calories" because they are extras in our diet and should be limited. When people have a 300-calorie drink, they typically do not eat 300 calories less at a meal. Those extra calories add up quickly and so do the pounds!
So what are the better choices?
Coffee and Tea Houses
Creamy coffee drinks are full of sugar, fat, and calories, not to mention lots of caffeine!
Topping your beverage with whipped cream or Hershey's chocolate syrup can add more than 100 calories each!

How to order:

Choose the smallest size.
Request nonfat milk.
Request decaf.
Avoid pre-sweetened coffee drinks, such as Frappuccino, or the Boba, bubble drinks ranging from 200 to 600 calories.
Avoid the extras: flavored syrups, whipped cream, and sugar.
If you must top it, choose light whipped cream or chocolate (cocoa) topping. Share the muffins or snacks with a friend.

Poor choices:

16-ounce café mocha = 320 calories, 7 gm fat
24-ounce Caramel Ice Blended = 770 calories, 16 gm fat
12-ounce Boba or Pearl Tea (pre-flavored mix) = 330 calories, 18 gm fat
Muffins:

Bran = 360 calories, 12 gm fat
Blueberry = 440 calories, 24 gm fat
Reduced-Fat Wholesome Morning (sounds healthy, right?) = 480 calories, 19 gm fat
Cinnamon Twist = 480 calories, 21 gm fat

Better choices:

12-ounce Chai tea latte (no sugar added powder) w/ NF milk = 120 calories, 0 gm fat
Herbal tea or Black coffee = 0 calories, 0 gm fat
Small café latte or cappuccino made with NF milk = 110 calories, 1 gm fat
Single Macchiato = 10 calories, 0 gm fat
16-ounce Caramel Ice Blended (no sugar added powder) = 280 calories, 3 gm fat
Biscotti = 200 calories, 10 gm fat
Muffins: Low-fat Cranberry Apple = 250 calories, 2 gm fat
Juice Bars
Juices and smoothies are full of vitamins and minerals, but high in sugar and calories.
Read the nutritional facts before ordering drinks and snacks.
Choose "light" smoothies and cut out 1/3 of the calories, sugar, and carbs.
Choose the smallest size and save 200-300 calories!
Add a protein and fiber boost.
Omit the frozen yogurt and personalize your order to include more whole fruit and less juice.
At Jamba Juice the Sourdough Parmesan Pretzel = 460 calories, 11 gm fat, whereas the Pizza Protein Stick = 230 calories, 6 gm fat.