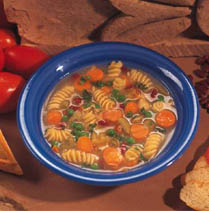 These recipes were developed for moms on the go. They take such little time you'll forget you were even in the kitchen.
Pastina
Ingredients:
1 (14 oz) can chicken broth
1/4 cup mini star pasta, or acini de pepe or whole wheat tri-colored pasta to make it fun!
1/4 cup frozen mixed peas & carrots
Directions:
Boil chicken broth, add pasta & veggies, then lower to a simmer for about 20 minutes.
Let cool then serve.
Hearty Lentils
Ingredients:
2 carrots, peeled & sliced into coins
1 onion chopped
2 low sodium chicken bouillon cubes
1 (12oz) bag lentils
Directions:
Saute carrots & onion in a little olive oil.
Add lentils, bouillon and cover with water (by approx. 2″).
Bring to a simmer about 1 hour.
Serve over cooked pasta -any fun shape.
Add cooked broccoli on top and lots of grated parmesan cheese.
Yummy Almond or Peanut Vanilla Oatmeal
Ingredients:
1/4 cup plain oatmeal
1 tbsp almond or peanut butter*
1 tsp sugar
1/4 tsp vanilla
about 3/4 cup water
Directions:
Put everything together in a small serving bowl, except almond butter.
After cooking oatmeal in the microwave on high about 1 1/2 to 2 minutes, stir in almond butter until it melts smooth. Adds a delicious almond flavor & adds protein, fiber, plus a good fat for staying power through the morning at school!
*Read the American Academy of Pediatrics Consensus Statement on peanut introduction