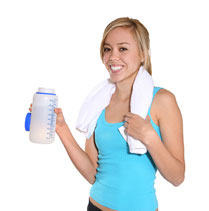 The variety of beverages Americans, including children, drink has changed markedly in the past few decades. We've witnessed an explosion of choices: regular soda, fruit drinks, sport drinks, lemonade, iced tea, coffee drinks, slurpies, and more. Many of them, unfortunately, are sweetened with high fructose corn syrup – ostensibly sugar. Other than energy (calories), these beverages offer very little nutrition. Food companies are finding more ways to sneak in advertising to kids! This bevy of beverages has led to negative news with regard to children's health.
Soft drink consumption has increased by 300% in 20 years. Serving sizes have increased from 6.5 oz in the 1950s to 12 oz in the 1960s and 20 oz by the late 1990s.
56 to 85 percent of school-aged children drink at least one sweetened soft drink a day.
Sweetened drinks constitute the primary source of added sugar in the daily diet of children. Each 12-oz sugared soft drink consumed daily has been associated with a slight increase (0.18) in a child's body mass index (BMI) and a 60 percent increase in their risk of obesity. (These associations are not found with "diet" soft drinks.)
Americans on average consume 31 teaspoons of added sugars. Note: each 20 ounce soda contains 15 teaspoons of added sugar. (From USDA Food Consumption Study, 2000).
As the consumption of sweetened drinks has increased, milk consumption has decreased. According to the National Dairy Council, only 25 percent of Americans meet their calcium needs.
Learn more at Health Problems Associated With Sweetened Drinks.