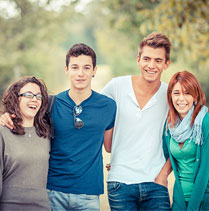 Teenagers are known for eating out often, whether it is pizza after the football game, birthday parties, movie stand snacks, the food court at the mall, or a quick stop for fast food.
According to a large multi-center study funded by the National Heart, Lung, and Blood Institute (NHLBI) and published in the January 1, 2005 issue of The Lancet, the more frequently teenagers eat at fast-food restaurants the more likely they are to gain more weight and have a greater incidence of insulin resistance in early middle age. In fact, on a typical day, almost one third of adolescents eat at fast-food restaurants consuming almost 200 extra calories, including nine more grams of fat and more than two extra tablespoons of sugar, than those who don't eat at fast-food restaurants. This can add up to about 73,000 extra calories equal to about a 20 pound weight gain per year!
The hardest part is often the portion sizes. We live in a world with growing portions. Twenty years ago a McDonald's meal was complete with a small bag of French fries, a plain burger and a 6 ounce Coke for around 620 calories. Today, the average soda is 20 ounces, the burger has nearly doubled and the fries have tripled to provide around 1420 calories. The problem lies with the way many of the teenagers think. Sad, but true, big food has taught us to believe that 32 ounce drinks and enormous portions are really normal. They eat more because they are simply unaware of the reference portion sizes encouraged for a healthy diet.
Learn more about eating out and portion sizes – How Can Teens Control Portion Sizes of Foods?