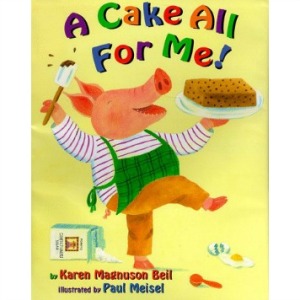 Story by Karen Magnuson Beil
Piggy can't wait to bake a cake to enjoy all by himself, and in this larger-than-life book, you will get to watch him follow the steps to make a delicious cake. Piggy will count, and measure, and pour, and stir, all to make himself this treat. You and your child may want to follow his recipe for Piggy's Polka-Dot Cake, which we find at the end, tastes better with friends. One neat feature of this book are the two colorful pages which illustrate all the different measurements used in the kitchen, from cups to quarts, teaspoons, to pounds. With bright, beautiful, pictures, and charming rhymes, this is a great book for beginner readers from preschool to 2nd grade.
After reading this book with your child:
Give your child a mini kitchen tour, showing them all the measuring cups and spoons that you use to cook, just like Piggy
Bake Piggy's Polka-Dot Cake from the recipe in the book
Help your child count out, along with Piggy, the different ingredients in the book that he uses to bake
For younger children, have your child practice measuring foods like dried rice or beans and liquids like water and put them into a measuring bowl. Be sure to use things that are easy to clean up!