The Calcium Connection: How Much Does Your Child Need And Why?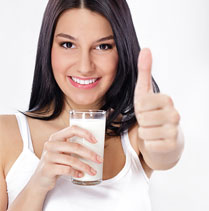 What is Calcium and Why is it Important for Your Child?
Calcium is a mineral needed for optimal growth and development
It helps build strong bones and teeth
A small amount is also involved in other critical body functions such as muscle contraction and blood clotting
If calcium levels in the body are low calcium gets pulled from the bones, its main storage site
If a deficiency continues over time, weak bones may result and this may ultimately lead to a condition called osteoporosis later in life
Calcium During the Teen Years
Children are in a constant state of growth so it is very important they get enough calcium throughout childhood and the teenage years. The teen years are when bone growth is at its peak. It is also a time when soda intake can rise and milk intake can decrease. Aside from displacing milk, a significant source of calcium, studies have shown that soda consumption may have negative effects on bone health. It is very important that teens be encouraged to get adequate amounts of calcium rich foods and limit soda intake.
Daily Requirements
So, how much calcium does your child need? Below is a quick breakdown by age:
| | |
| --- | --- |
| Age (years) | Mg/Day |
| 0-0.5 | 200 |
| 0.5-1 | 260 |
| 1-3 | 700 |
| 4-8 | 1,000 |
| 9-18 | 1,300 |
Food Sources
Calcium can be found in a variety of foods. Dairy products are particularly rich sources. Below is a sampling of calcium rich foods:
| | |
| --- | --- |
| Food | Mg of Calcium |
| 1 cup Skim Milk* | 300 |
| 1 cup Low-Fat Yogurt | 345 |
| 1 oz. Cheddar Cheese | 200 |
| 1/2 cup Cooked Spinach | 140 |
| 1/2 cup Tofu | 130 |
| 1/2 cup Almonds | 90 |
*Reduced fat or skim milk is acceptable for children over the age of 2. Children under 2 years of age should receive whole milk.
Tips to Increase Calcium Intake
Have calcium rich foods such as low-fat yogurt, low-fat mozzarella and string cheese on hand for
snacks
Include skim or 1% milk as the beverage of choice at mealtimes
Choose other calcium-fortified beverages such as orange juice or soy milk if your child is allergic to, or does not like, cow's milk
Make a smoothie with milk and frozen fruit or a yogurt parfait for a special treat
---
---
Similar Articles You May Like...
---
---
Subscribe to SuperKids Nutrition!
---
---